The Elite Fit Process
What is The Perfect Fit?
"The Perfect Fit begins with an understanding of the athlete's ambitions and abilities in order to educate them on achieving their goals and ultimately building a position that maximizes power, comfort, and handling without losing the bike's ability to evolve with the rider."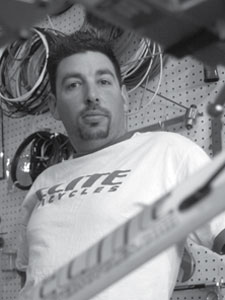 Born in Kingston, Jamaica (1970)
Professional Triathlete (1996-2001)
President and Owner of Elite Bicycles
Philadelphia, PA
Certified personal trainer
Studied and applied theories of exercise and functional movement taught by Arthur Jones (creator of Nautilus) and Ken Hutchins (creator of super slow periodical) in a one on one clinical environment
Personal trainer and ringside assistant for ultimate fighting champion Hoyce Gracie
http://en.wikipedia.org/wiki/Hoyce_Gracie
Personal assistant to Baron Baptist, Baptist Power Vinyasa Yoga
http://www.baronbaptiste.com
and former peek performance coach for the Philadelphia Eagles.
Consultant for applied research in biomechanical cycling science for Deutsche Sporthochschule Koln (German Sports University Cologne)
Consulted with and learned principles and applications taught by Bill Peterson Perdorthist.
http://www.wedofeet.com
and several other podiatrists and foot and ankle Surgeons
Studied acupressure and its relations to the contact points of a rider on a bicycle.
Continued and constant education with Princeton University Physical therapy instructor and continues tutoring with integrated Manual Therapists.
Thank you very much to all who have helped to educate and advance my understanding of the traditional bicycle fitting protocols and those who have helped to edify myself on the biomechanical, kinetic, organic, and functional movement of the human animal.
Paraic Mcglynn, Dan Empfield, Paul Swift, Vint Schoenfeldt, Dr. Andy Pruitt, Steve Hogg, Steve Harad, John Cobb, Phil Cavell, Ian Buchanan, Bill Peterson C.Ped, Paul DeMarco DPM, FACFAS, Dr. Pamela Wilson, Natalie King, PTA, CIMT, Aleck Wong, DC, Johnny King-Marino DC, CCSP, Stephanie Muth.
4,500 - plus fits and still counting.
Certified Bicycle fitting protocols and tools currently used today.
Retul, F.I.S.T., SICI, Bike Fit, Fit Kit,
View the Perfect Ft Process
Start Here
Fit
David Greenfield is certified with the following: