Elite Webstore
Welcome to the NEW Elite Bicycles Webstore. We will be adding new and exciting items from Elite for you to enjoy. Please keep checing back as we update our online shop.
The checkout process will take place on PayPal's secure and trusted servers for a safe transaction.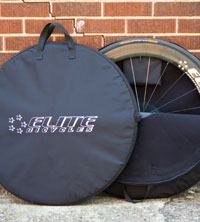 Elite Bicycle Wheel Bags
Travel with your wheels in style! Elite Bicycles wheel bags are made to carry a single wheel - features include a zipper closure, strap handles for easy carrying, and an inner pouch for holding a skewer, tube, glue, or anything else you wish (permitted it fits)! A safe and easy way to travel with your race wheels.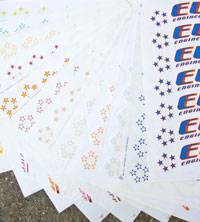 Elite Bicyclcs Wheel Decals
Here we have some Elite Bicycles wheel decals. These are the same decals we use on all of our 58mm race wheelsets. They also double as fantastic window stickers! If you need a replacement set, or want to pick up an extra set for your home, car, or anything else then here you are. Please note that the price is per wheel. For a wheelset you will need to purchase a quantity of 2.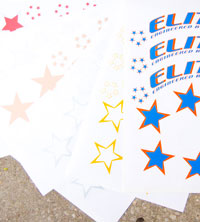 Elite Bicycles Disc Decals
Our disc wheels look awesome. These decals are the same that are used on all of our discs, and now you can have a fresh set of these for yourself. Stick em anywhere! They're sticky so it will work.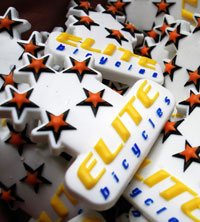 Elite Jibbitz
Introducing the first Bicycle Manufacturer Jibbit! Show off on your Crocs while relaxing with friends or resting up between work outs. Measuring in 1.25"x1.5." These Jibbitz easily plug into any standard Crocs shoes and bring them to a new level of class.
Available in one color(pictured)
$2.99 Each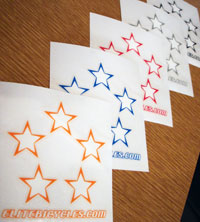 Elite 5 Star Stickers
Get your five star rating with the new Elite 5 Star Stickers. Now available in 5 colors, and size in 4"x4". These weather resistant stickers can go anywhere, such as your car or Aero helmet. Call or Email us to get yours today!
Available colors: Black, Silver, Blue, Orange, Red
$2.99 Each