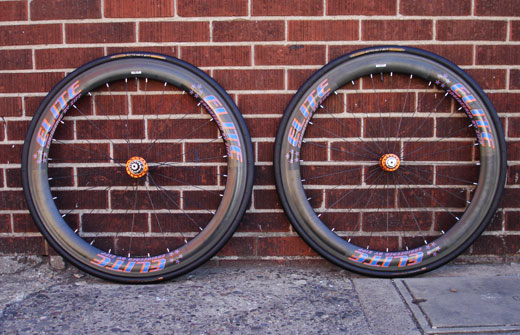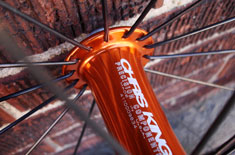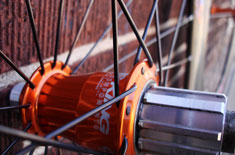 Elite Aero (Chris King)
Wheelset:
Elite Aero (Chris King)
Rim:
58mm Carbon, Private Label, Smooth, Engineered by Zipp
Hub:
Front: Chris King R45 Road - Aluminum Shell, Available in 10 Colors
Rear Hub: Chris King R45 Road - Aluminum Shell, Available in 10
Spokes:
DT Swiss Competition/Champion, Stainless Steel
Weight:
1,436g tubular (28h fr & rear) / 1,790 clincher (28h fr & rear)
Front Wheel Price:
$1,099.99
Rear Wheel Price:
$1,349.99
Wheelset Price:
$2,449.99
Wheelset w/ Disc Price:
$2,649.99
As with the Elite aero race wheels with White Industries hubs, all Elite Chris King wheelsets are handbuilt and decaled in house to the individual rider. The rim is a private-label 58mm smooth carbon rim engineered by Zipp. This classic rim has been ridden to hundreds of world and national championships, dozens of Olympic medals and world records, and thousands of individual victories large and small. Multisport athletes everywhere have made this their premier choice for good reason - its superior performance in relation to aerodynamics, durability, and comfort.

The exclusive ICT process combined with the VCLC technology results in 58mm deep section rims that more than double the lateral stiffness of conventional alloy rims, while the weight at the out edge is up to 75% less than that of traditional rims. This combination of low edge mass and high stiffness results in a ride quality and quickness that has to be experienced.

Now introducing brand new road hubs from Chris King! Moving forward the CK version of our Elite race wheels will feature the new Chris King R45 race specific hubs. Chris King has this to say about their latest creation:

"The R45 hubset is 20% lighter than our already light Classic hubset. We started by making both front and rear hubshells smaller and sleeker and then adding all-new 17mm axles. That's 17mm from dropout to dropout resisting deflection during cornering or when the power is full on. We designed a new driveshell to fit the new rear hub design, removing as much weight as possible from the shell and its inner components. But the highlight of the rear hub is the super quiet, fast-engaging all-new 45-tooth stainless steel RingDrive.

The R45 hubset has its own all-new stainless steel sealed bearings. As with every King bearing, these bearings are made in-house in Portland, Oregon and individually hand-checked for precision and smoothness. Our proprietary bearing design allows us to place more rolling elements per bearing meaning greater durability and precision. R45 bearings also feature lightweight, low-friction seals for fast rolling and can be easily serviced at regular intervals using only a single 2.5mm hex wrench and penknife."

In addition to these awesome new features, Chris King is now offering low-spoke count drillings as well for a lighter wheelset.