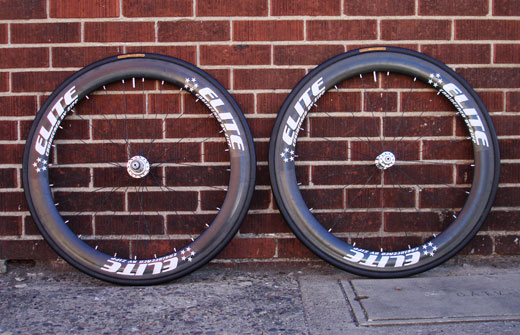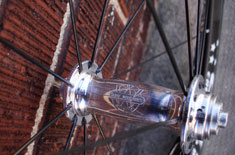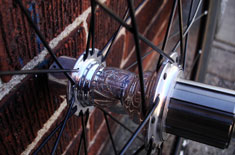 Elite Aero (White Industries)
Wheelset:
Elite Aero (White Industries)
Rim:
58mm Carbon, Private Label, Smooth, Engineered by Zipp
Hub:
Front: White Industries H2 - Aluminum Axle & Shell
Rear: White Industries H3 - Titanium Freehub, Aluminum Shell, Cro-mo Axle
Spokes:
DT Swiss Competition/Champion, Stainless Steel
Weight:
Tubular Set: 1,477 g (20h fr, 28h rear) / Clincher Set: 1,831 (20h fr, 28h rear)
Front Wheel Price:
$999.99
Rear Wheel Price:
$1,199.99
Wheelset Price:
$2,199.99
Wheelset w/ Disc Price:
$2,549.99
All Elite race wheels begin in pieces. Hubs, rims, spokes, and nipples come together in a build that is customized to the size of each individual rider, and their intended use for the wheels. Hand built in our shop by Max or Keith (with over 15 years of wheelbuilding experience between them), these wheels can be the difference between a Kona spot or a couch spot.

The rim is a private-label 58mm smooth carbon rim engineered by Zipp. This classic rim has been ridden to hundreds of world and national championships, dozens of Olympic medals and world records, and thousands of individual victories large and small. Multisport athletes everywhere have made this their premier choice for good reason - its superior performance in relation to aerodynamics, durability, and comfort.

The exclusive ICT process combined with the VCLC technology results in 58mm deep section rims that more than double the lateral stiffness of conventional alloy rims, while the weight at the out edge is up to 75% less than that of traditional rims. This combination of low edge mass and high stiffness results in a ride quality and quickness that has to be experienced.

White Industries H2 front and H3 rear hubs are buttery smooth and have a remarkable strength-to-weight ratio. Available in polished silver or anodized black, and/or with a ceramic bearing upgrade (MSRP $299.99) to make them roll even smoother.