Elite News
Elite Bicycles Athletes at Singapore Duathlon
February 8, 2011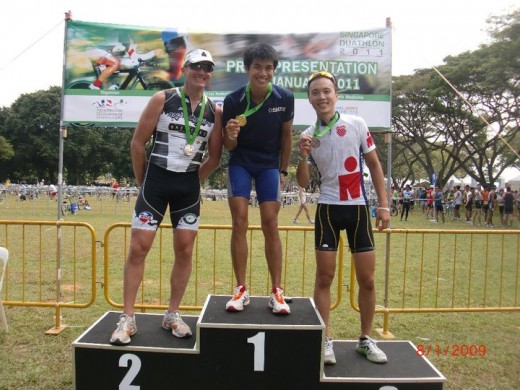 Elite Bicycles own Ashley Liew raced his way to a first place finish at the Singapore Duathlon last week.

Ashley rode and ran to a total time of 1:03:52, finishing over 4 minutes ahead of 2nd place.

Here is a brief race report from Ashley:

"Singapore Duathlon, held on 23 January 2011 at East Coast Park, was my first experience ever at a duathlon. Thanks to the encouragement of Elite, I signed up for this race, specifically the sprint distance (5k run, 18k bike, 2.5k run). I did not know what to expect out of my first duathlon. Whatever it was, this was to be my very first time competing in my spanking new Elite bicycle and customized triathlon suit. This made me excited and proud.

I started the race pacing Willie Loo, whom I knew was my main competitor (he beat me at Singapore Ironman 70.3 2010 to emerge first Singaporean). Once the second lap of the first run began, I knew my legs were not in the freshest of conditions (I came in 5th at the SAA National Cross-Country Championship 5km Men√Ę'?¨'?Ęs Open barely the afternoon before), but I pressed on with hope as I managed to drop Willie before T1. The start of the bike leg for me was difficult to get into momentum, more so than from bike to run. Towards the end of the first of three laps, I picked up the pace and somewhat maintained it throughout. I loved the ride, especially the efficiency of it all. Moreover being in aero position never felt more comfortable than with my new extensions. I was worried Willie would close the gap on the bike but I did not see him as I exited T2. My second run was significantly slower paced than the first, owing to a lack of specific bike and brick training. However I kept focusing on the goal on coming in first.

I came in overall sprint Champion with a time of 1h3m52s, beating Willie by a couple of minutes margin. Unfortunately he got disqualified because of poor marshalling in transition. The runner-up, from Italy, was almost five minutes behind. I was extremely pleased because it was my first time emerging as an overall multisport race Champion (age-group Champion aside). Thank you Elite Bicycles for giving me this opportunity to compete!"

Congratulations to Ashley, Edwin, Enrico, Craig, and everyone else who competed!
News Sections