Elite News
Elite Bicycles Athletes Podium at Philly Insurance Tri
June 28, 2010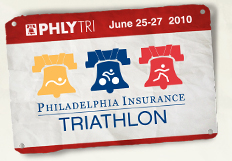 Elite Bicycles athlete Brian Duffy Jr. finished 2nd in the amateur division by just 20 seconds, beating over half of the men's PRO field in the process.
Congratulations also to Kevin Trainer, who finished 3rd overall in the Sprint, a race marred by the tragic loss of a competitor in the swim leg.
The Olympic distance triathlon was changed to a duathlon in the wake of the unfortunate events of Saturday's Sprint distance race.
This is a great event put on by great people. Check out more info on the race at their website, (
Philly Tri!
)
News Sections