Elite News
Fiona Docherty, World Champion (again!)
December 15, 2009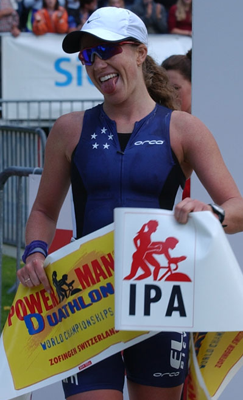 Elite Bicycles professional athlete Fiona Docherty ran her way to the Xterra Trail World Championship last weekend in Oahu, Hawaii.

Feefee has been taking a bit of a break from triathlon to focus on distance running, specifically half and full marathons around the world, including the upcoming London Marathon in April.

While Fee has been focusing on her run training, she isn't primarily an Xterra runner, and in fact doesn't have a terrible amount of experience with this type of race. Nevertheless, Fee raced her way to a first place finish and a World Championship by nearly 3 full minutes in this 12 mile race that featured roughly 3,000 feet of climbing.

Congratulations to Fiona on an outstanding race! Can't wait to see you in April!

If you want to learn more about Fee, or send her a note of congrats, please check her out on the web at feedocherty.com !



News Sections