Elite News
Tweet Tweet, All Aboard
December 11, 2009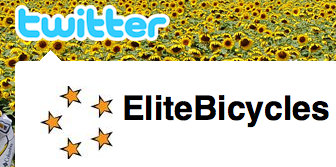 Elite Bicycles is happy to announce that we are now active and available on
Twitter! We will be using Twitter to provide quick information updates on
day-to-day activities and scheduling as it may pertain to a planned trip to
see us. We will also be using Twitter to send out notifications of new blog
installments, shop rides, and other interesting tidbits that we feel would
be interesting, entertaining or important to share with our Elite family of
riders. Additionally, we will be using Twitter to update the world on Elite Bicycles family
race wins before we have the opportunity to write out a full news story. So
please feel free to follow us at:

www.twitter.com/elitebicycles

Tweet Tweet!
News Sections