Elite News
Yoder, Shapiro head to the Big Apple
July 28, 2009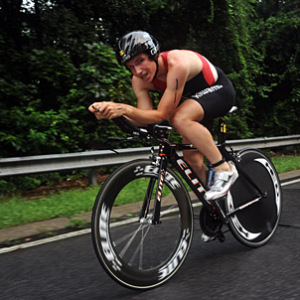 Elite Bicycles sponsored pros Andrew Yoder and Margie Shapiro headed up to New York for the NYC Triathlon on Sunday, placing 4th and 3rd, respectively.

A torrential downpour early race morning made for a dangerous bike course, but Margie and Andrew were up to the challenge.

Finishing just seconds out of a podium spot, Yoder rode a blazing 56:37 bike split, finishing a full 2 minutes ahead of eventual winner Greg Bennett. Rounding out the men's top three were world champions Andy Potts and Matty Reed.

Margie Shapiro took the podium for what seems like the tenth time this year, finishing in 3rd behind Rebecca Wassner and Becky Lavelle.

Elite Bicycles newbie Alice Henriques also finished in 4th among the elite amateur women.

Cognrats to Margie, Andrew, and Alice on a great race!
News Sections