Elite News
Elite Road Team Wins Smoketown Crit
May 16, 2009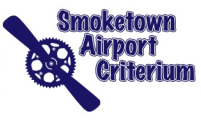 With strong team support from Tom Nagy and John Paproski, Rich Leibfried
escaped the field on the first lap of the Masters race at the Smoketown
Crit held Saturday May 16. Leibfried and two breakaway partners stayed
clear of the field, overcoming strong crosswinds blowing across the unusual
criterium course set up on airport runways in beautiful Amish country.
Leibfried muscled out his breakaway partners in a heads up sprint beating
the Spinners Keith Wilson at the line for the victory. Tom Nagy polished
off what was left of a decimated field by taking the sprint.
News Sections