2009
07.21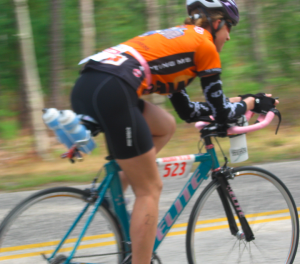 Congratulations to Gwen Phillips, our inaugural Elite Bicycles Rider of the Month! Gwen is a Police Officer here in PA, and is gearing up for her first full Ironman in Louisville next month.
Read more for Gwen's interview…Name: Gwendolyn Phillips
Place of Birth: Norristown, PA
Current Residence: Perkiomenville, PA
Date of Birth: 1/29/1981
Occupation: Police Officer
Bicycle: Elite T-Class
Preferred Race Distance: Olympic triathlon
What is your favorite training ride? I love riding locally in the Perkiomenville/Limerick area.  So many great hills and beautiful scenery.
What is your favorite race? My favorite race off all time is the Black Bear sprint in Jim Thorpe, PA.  I loved the hills on the bike course!  It was a very challenging course but I enjoyed it.  I will be back next year.
What triathlon accomplishments are you most proud of? I am most proud of my finish at the Bassman half iron distance race in 2008.  It was my first attempt at a half distance tri and I was thrilled when I finished.  I was so confident with that finish I signed up for Ironman Louisville!

How do you find time to balance training, racing, & work? I don't sleep.  Ha, seriously….I don't!  Ironman training is tough but so is being an officer.  Shift work is tedious and being away from home 14 hours a day plus training is difficult. I do the best that I can and put training above everything else. Fortunately I have a very understanding and supportive husband.  I honestly can't wait for my season to be over so I can see my family again!
Racing occurs on the weekends that I have off from work.  I do most of my long training runs and rides alone which can get boring.  My coach, Todd Wiley, is supportive and keeps me motivated to get things done.
What are you goals & aspirations relative to triathlon? What about outside of the sport? I am currently training for Ironman Louisville, 8/30/09.  I can't wait to be an Ironman!  I am a new graduate student at St. Joseph's University, studying criminal justice with a concentration in behavior analysis.  My goal is to obtain a degree that will further my career in law enforcement and beyond.
Why did you choose Elite? I was looking for a tri bike for quite some time.  Close friends of mine have Elite bicycles and they recommended I go to the shop and talk to Dave.   It was the best decision I could have ever made!  I love my bike and get tons of compliments every race I attend.  The guys at the shop are amazing and Dave is true master at his craft.  Elite is a great local company to support and they are dedicated to their product.
This post was written by:
Elite
Tags:
Elite Bicycles, Ironman, Louisville, Sexy Police Officers, St. Joe's, T-Class