2009
09.17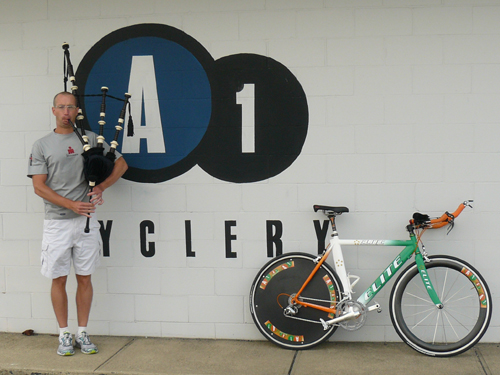 Hello, and welcome to the September edition of Elite Bicycles Rider of the Month. Today's chosen one is Jamie Jamison, an awesome Elite owner from Indiana. Jamie owns a dope Irish themed T-Class with matching wheels decals. It is very cool.
Click on Read More to get to know this fine gentleman.
Name: James Jamison  (Jamie)
Place of Birth: Indiana, PA
Current Residence: Indianapolis, IN
Date of Birth: At night, but not last night
Occupation: Chemist
Bicycle: T-Class
Preferred Race Distance: HIM
What is your favorite training ride? I'm a glutton for punishment.  I do 95% of my training on a Kurt Kinetic trainer in my garage.  I've grown to like it!
What is your favorite race? Muncie Endurathon…flat and fast.
What cycling accomplishments are you most proud of? As of this weekend, it has to be my Kona slot that I got @ Ironman Wisconsin.  Before that it was winning my AG @ Muncie HIM in 2008.
How do you find time to balance training, racing, & work? Organization and time management skills!  You can often see me in my garage on the trainer most mornings starting @ 4AM, running during lunch, and fitting in other workouts in the evening.
What are your goals & aspirations relative to cycling? What about outside of the sport?   My goal in cycling has just been fulfilled…Kona slot.  Now, I just want to be the best ambassador to the sport that I can.  I guess I would like win a tri outright someday.  Outside the sport….I want to be a better bagpiper!
Why did you choose Elite? I chose and bought an Elite without ever riding one!  I had my LBS (A1 Cyclery in Indy) make sure it would fit.  After that, I went solely on online opinions and the opinions of other Elite owners at races.  The owners just gushed about the ride quality and customer service.  The bikes were so well thought out – practical, yet cutting edge.  The ability to customize was a real selling point.  I didn't want a cookie cutter bike, I wanted "my" bike.  The customer service is second to none.  I know that if anything ever happens to my bike the crew at Elite will bend over backwards to get me what I need no matter where I may be.  Nothing seems to be "too much" to ask at Elite.  There is peace of mind in that.
_________________
Congratulations to Jamie on an outstanding race at Ironman Wisconsin, and on his qualification for the Ironman World Championships in Kona, Hawaii. You can check out Jamie's race report from Wisconsin on our forum here: http://elitebicycles.com/forums/viewtopic.php?f=20&t=273 (warning: funny, and a little gross).
This post was written by:
Elite
Tags:
Elite Bicycles, Ironman Wisconsin, Ironman World Championship, Kona, Kurt Kinetic