2010
09.03
SYMPOSIUM – SPEND AN EVENING WITH THE EXPERTS
Wednesday September 8th
Elite Bicycles Asia – 3 Duxton Hill, Singapore 089589
Dear friends & family of Elite Bicycles,
We would like to extend a warm invitation to all of you to  join us at our Symposium – A Night with the Experts. A gathering of people with a common interest in sports. We want this event to be one of sharing and exchanging of knowledge for all. We sincerely hope that you and your friends can join us.
We at Elite together with our guest speakers are very excited that this night is finally coming together and we hope to catch up with each and everyone of you. See you on September 8th!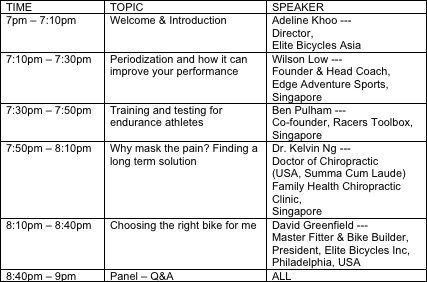 This post was written by:
DGG
Tags:
Ben Pulham, Bicycle Fitting, Biomechanical Bicycle Positioning, David Greenfield, Dr. Kelvin Ng, Elite Bicycles, Elite Bicycles Asia, functional movment, Road Bike, Singapore, Symposium, triathlon, Wilson Low