2011
12.06
Workout Winner: I've finished three Ironman triathlons
This is a wonderful interview with Elite Bicycles athlete Mary Latza brought to us by:
The Lehigh Valleys leading news paper THE MORNING CALL.
I give all Photo and content credit to this fine paper.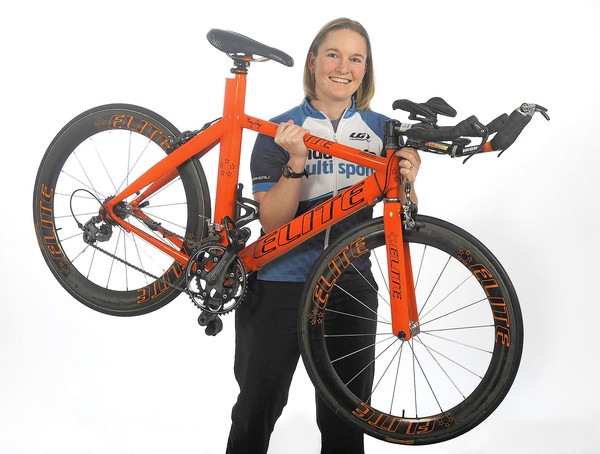 •Name: Mary Latza
•Age: 33
•Hometown: Center Valley
•Favorite exercise routine: Triathlons, but admit that playing on my work softball team is REALLY fun! I also really like the P90X workouts when I'm not training for a race — they are really challenging!
•Major exercise accomplishment: I've finished three Ironman triathlons and also have qualified for the Boston Marathon
(but haven't raced it yet.)
•Proudest exercise moment: My first Ironman finish, followed by my second one, mainly because the 2nd Ironman was on a day where it poured rain the entire day!
•Significant health improvement: When you stick to a routine, you can measure how your body reacts. Heart rate lowers as I become more fit, my body composition changes and I feel awesome.
•Why I exercise: I am an extremely competitive person. Admittedly I exercise with the goal of trying to place in my age group. That may not always be possible, but I'm always competitive with myself and want to go farther/faster.
•How working out makes me feel: Sometimes awful! Building fitness is not an easy thing to do and when you are striving to improve, you can't avoid the "growing pains" of muscle soreness. But the feeling of accomplishment when you manage to finish a workout despite being tired from a full day at work can't be beat. Finally, when I am at a good point in my exercise routine that my fitness is "good," I definitely feel the benefits: I'm more alert, feel stronger, sleep better, etc.
•Exercising regularly since: I was a kid that left the house after school to do things like play baseball or football with friends. I played youth sports (softball, volleyball, basketball) age 7-13, played three sports each year in high school (cross country, basketball, track) and competed in cross country and track in college. I've been running for 20-plus years and doing triathlons for over 10 years.
•How I find the time: I work a full-time job, which is 45 minutes away from my house. So that means I have to squeeze my workout in either before 7 a.m. or after 6 p.m. I do my best to arrange longer workouts when I can leave work a little early or "on time" or keep them for the weekends. Having two hours for a workout during the week is tough, and admittedly sometimes you have to skip a workout or two.
•What motivates me to move: The thrill of going faster than I have before or winning an award. Also every time I do the Ironman I am inspired by everyone that finishes the race. There are people out that that look like they have no reason to be in such a race, but they press on and finish. Those are the people who inspire me!
•What keeps me going: Sometimes competition, sometimes knowing that I will feel worse if I am not adequately prepared for a race. Also, the support of friends in my club and my husband Randy (who also does triathlons).
•When the weather is bad: Know that you can rearrange or reschedule a workout. However, my definition of bad sometimes does not match everyone elses! My favorite time to run is in the middle of a heavy snowstorm, in the evening, when all you hear are the sounds of your sneakers crunching on the snow and the sound of your breath. If it is freezing rain or nasty — I'll switch to a shorter workout that I can do indoors or switch the workout to a different day and enjoy my couch time!
•Favorite gym: I belong to 24/7 Fitness club, but do a lot of stuff at home. My preference is to always bike and run outdoors!
•Favorite video: I like the Spinervals videos and P90X. For books, I try to read as much as I can about endurance training.
•Role model: The 60-plus year old athletes that kick my butt in Ironman races!
•Favorite equipment: That's hard to answer. A triathlete has goggles, a bike (and shoes), and running shoes. I'd have to say that my bike is my favorite, even though running is my first love" You can travel farther on a bike, see new places!
•Special strategies: A phrase from my old high school track coach: "Money in the bank!" Meaning, the work I do now makes my life easier later (in more than one aspect of life!)
•How I control the urge to loaf: I remember that in order to be at my best, I need to keep myself in top form. But I think it is also important as an athlete to allow yourself some down time. You need the mental and physical break. I don't always control the urge to loaf, sometimes I embrace it!
•Most helpful tip: Advice from a friend in triathlon, on keeping focus for finishing the Ironman: "Relentless forward motion"
•Favorite workout song: I don't workout to music often, because I do most of my biking and running outdoors. I don't like wearing headphones because I rely on my ears to hear cars. But if I do workout to music, I'm a big fan of Queen, "Bicycle" and "Another One Bites the Dust."
•Foods: Whatever I want! I exercise so I can enjoy myself. I should eat healthier, but I definitely would be a differently shaped person if I didn't exercise!
•Tips for starting: Start small; focus on trying to do something for 15 minutes each day at first. Also find a friend or workout partner. Sometimes I struggle to get out for a ride/run, and most of the effort is just getting out the door. If you can manage to do the shorter routines and have a buddy, then you can start adding time in a little bit at a time.
This post was written by:
DGG
Tags:
custom paint, Custom Tri bike, Elite Bicycles, elite custom, Full Custom, interview, Ironman, Mary Latza, orange bicycle, Race Wheels, the morning call, triathlon, triathlon bike