2012
04.23
Max Fennell is Elite Bicycles newest factory sponsored athlete.  Max is training and racing with several very attainable goals in mind. First and foremost to help with the enhancement of life quality for others and to become the First African American professional triathlete. Max is currently involved with Team in Training along with other charitable causes in addition to Racing in honor of his close friend, a recent cancer survivor.
This is the silent trailer to his soon to be released documentary "The Epic Tri"
We at Elite Bicycles are VERY proud to be involved with such a great person, athlete, and role model for all that is good in sport and community outreach.  Max not only goes out of his way to be an active supporter with nationally recognized charitable organizations, he is also doing all that he can to contribute to the general welfare and social advancement of the challenged youth in his community.
Due to these extra efforts put forth by Max. Elite Bicycles president and master bicycle fitter David Greenfield is adding on to the product support provided by Elite bicycles Inc, by personally involving himself as a mentor and coach in Max's endeavors to become the the next "Great" in the athletic world of professional triathlon.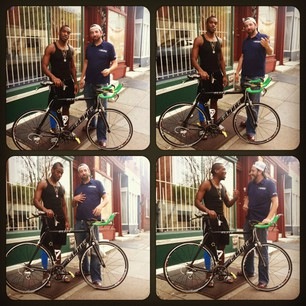 This post was written by:
DGG
Tags:
Africran Amarican Pro triathlete, Bicycle Fitting, Biomechanical Bicycle Positioning, Custom Tri bike, David Greenfield, hand-crafted in america, ISM, master bike fitter, Max Fennell, T-Class, triathlon, triathlon bike