2009
07.08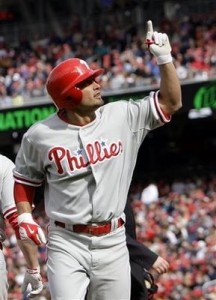 Aloha!
Full day at Elite today. Ben Blum is in for bicycle fitting on a couple of his bikes, looking at some longer distance touring. A little different than what we normally do, but its nice to see something fresh and keep us on our toes.
Local athlete Tom Kramer is coming in this afternoon for a bicycle fitting as well. Tom is having some saddle issues he wants to clear up before his upcoming half Ironman. I'm sure we will be able to get him all taken care of, these new ISM Adamo saddles are really catching on and solving a lot of problems for people.
We're gearing up for the trip to Ironman Lake Placid in a couple weeks, so if anyone is interested in utilizing us for transport please let me know as soon as possible so we can reserve your spot and get you taken care of!
———————————-
Unfortunately back to back jacks by Howard and Werth couldn't overcome our going 0-5 with runners in scoring position last night, and the reds were able to eek out a 4-3 win here in Philly.
I'm going to chalk it up to being a little tired from knocking in 22 runs on 21 hits the night before. Oh well, we'll get em tonight and wrap up another series win.
Also, go to the Phillies website and vote for Shane Victorino for the final all star spot and send him to St. Louis!
This post was written by:
Elite
Tags:
Bicycle Fitting, Elite, Howard, Ironman, Phillies, Victorino, Werth