2009
08.07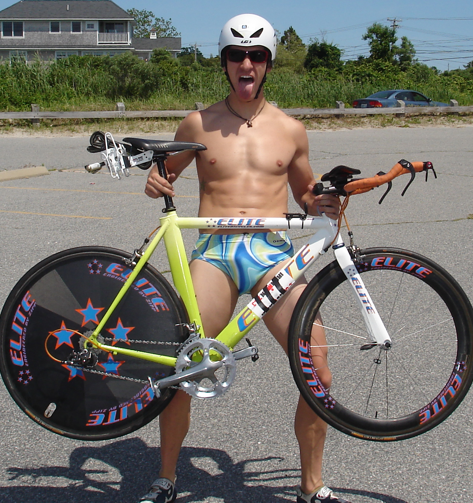 David's best friend and former roommate and training partner Nigel was in this morning to hang out for a bit. He is full of character, and always busting David's chops, so its fun to have him in.
We are doing a full road fit for Evan Hollenshade today. He is a Villanova student sent over by our old friend Dave Lauria, who works with the Villanova Cycling team. Its going well so far, I think. They keep me squirreled away in this office all day, so I really have no idea what is going on out there.
Matt McCulley will be by a little later for a check up fit on his bright orange and black T-Class. Matt is the race director for Tri for our Veterans, a race that gives back a lot more than most. We donated a full overhaul (MSRP $200) this year, and as long as this race exists and we can help, we will.
Our friend Carly will also be in later this afternoon to get her cleats and pedals set up. Carly is a member of the Drexel University tri team. If you don't know, Drexel University is a school here in Philly that has just gotten its tri team in gear this year. They are coached by Elite Bicycles athlete Chris Ganter, and we offer a sponsorship and consideration to all team members to help out. Everyone on the team seems really stoked about triathlon and racing, and its pretty cool to be able to help out a lot of newbie athletes.
Alex Ochman sent a few pictures from Uberman. One of them is featured above – sorry about that.
__________________
Phillies won yet again last night. My homestate  marlins are in town for the next couple days, but shouldn't be much trouble.
Au revoir
This post was written by:
Elite
Tags:
Drexel, Elite Bicycles, Phillies, T-Class, triathlon, Uberman, Veterans, Villanova