2009
08.11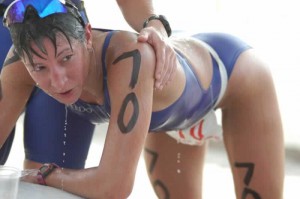 Greetings from what I hope is a short lived heat wave across the mid-atlantic,  including our home town of Philadelphia.  I believe I just heard some thunder so that should make the ride home a bit more interesting.
Yesterday we were pleased to be able to meet with Annette Schaff who  drove over from western PA to upgrade  from her 4 year old XS T-Class triathlon bicycle to a new 2010 full custom Razor Carbon Lite tri bike http://www.elitebicycles.com/bike_detail_tri.php?id=razor_carbon. Annette  is gearing up to be a competitive addition to the 2010 Ironman event in Lake Placid. Annette will be heading up to a new AG for next  season and hopes to not only do her best for herself but to also earn a spot to the Ironman World championships later that year in Kona HI.  We wish Anette all the best in her preparation for these events and hope to build her an ultra light speed machine that will maximize her efforts and help to drive her to the top of the podium in the 60 plus age category.   Go get'em Tiger! We at Elite are confident with discipline and some hard work your goals for 2010 will be within your grasp.
Today we were honored to work with a courageous and dedicated advocate for the sport of triathlon. Jason Kilderry is  a very fact based and science minded coach who is not only at the forefront of triathlon and run specific coaching  but is a true survivor in life. Without exposing too much of his personal life I will simply say that Jason will be competing next year with three (3) fewer organs than most of the other athletes racing alongside of him.  Jason came in today to go through our full biomemanical bicycle positioning protocol to ensure that he will be at his utmost potential for his ramp up to a comprehensive training regiment on and off the bike.  We certainly made some significant changes to his previous position and hope that the new fit will provide him a new lease on comfort and speed.  I am confident that he will come back to the sport at a more accelerated level than in the past.  Most importantly I was overjoyed that his bike was around about the correct size for him and I was able to put him in the correct place in space with the bike properly supporting him skeletally and within the constraints of safety and control.  Like many we fit,  Jason was not on a Elite Bicycle as of now, however I am sure it will be in his future sooner or later.   Jason is an all around great guy and I look forward to watching and hopefully assisting in his climb back to the top of the sport he loves and lives for.  If you are in need of a highly qualified coach who chooses to be in constant contact both via the web and by phone he may be the man for you.  Please refer to his web site www.etacoach.com or e-mail him directly at info@etacoach.com
In keeping up with one of our partial themes of this blog, I am happy to say the Phillies are still on top of the standings in the NL east and will hopefully bring it to the Cubs later this evening.
Stay tuned for my next write up where I will be blogging about our super endurance athlete Kevin who is preparing himself to challenge for the title in this years double Ironman 8 weeks from now in Virginia, and my fabulous garden currently in full bloom. Save travels to Brian Sheehan, who is making a considerable trip to pick up his new Elite Magnus, triathlon specific speed machine – we will see you tomorrow!
All the best
DGG
This post was written by:
DGG
Tags:
Bicycle Fitting, Custom Tri bike, Elite Bicycles, Heat wave, Ironman World Championship, Lake Placid IronMan, Phillies, Triathlon coaching