2011
08.03

This new addition to the wildly successful  Ideal Saddle Modification (ISM) family of saddles will make its first public showing in about a months time at the annual EuroBike show in Friedrichshafen, Germany.  The new Prologue will fit very nicely into the Adamo line up choices, and may soon become the one of  the most popular saddles in their extensive range.
The new seat comes to the market as a combination of rider/athlete feedback and wish list thinking. "You asked for it and you got it." says Dave Bunce, Operations Commander for ISM worldwide.  After receiving multiple requests for a race ready seat with a softer touch, the ISM design crew went to work. The result is the reflection of consumer desires. A performance driven, high comfort product.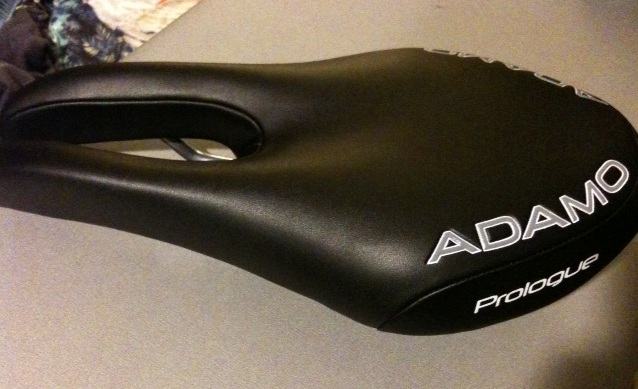 The base of this new saddle is built on the same platform as the company's higher end Podium and Breakaway models, which have both shown to have immediate and continued success since their creation. The build is complemented by the pleasurable and indulgent feel of the gel laden Typhoon saddle. Additionally, this new offering allows for rider versatility in positioning with its longer length and narrower hamstring section, allowing for more forward and rear body movement. Also taken into consideration was the width of the front arms to help prevent irritation or superficial chaffing on the inner thigh. The new Prologue truly brings all the best aspects of the ISM product line into one fabulous addition. A sleek looking, race proven winner, and in the words of Dave Bunce "the biggest change is we added LOTS more foam and gel padding to soften the ride."  Dave feels this new seat will be "great for distance cycling and triathletes alike."
Finally, the Prologue is priced at a point well below its performance and comfort value so it will be sure to be hit. The first run will undoubtedly sell out quickly, so if you are interested please secure your request with your local ISM dealer immediately.
Available in either Black or White
Internal: foam and gel
Rails: Chromoly
Length: 270mm
Width: 140mm
MSRP: $169.95
This post was written by:
DGG
Tags:
Adamo, Biomechanical Bicycle Positioning, Elite Bicycles, elite custom, functional movment, ISM, prologue, Race Wheels, Road Bike, saddle, seat, Singapore, sneak peak, triathlon, triathlon bike