2009
09.01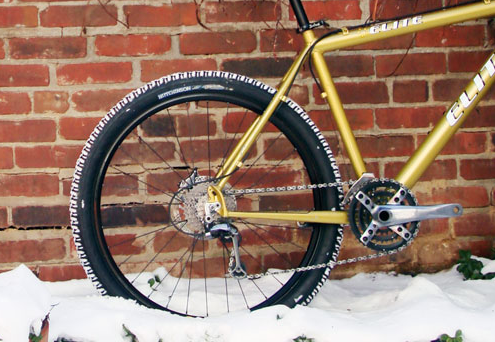 Weather pictured is posted in anticipation of upcoming awesomeness.
It has finally cooled off here in Philadelphia, and we have had another busy day here at Elite Bicycles. Not a lot to do appointment-wise, but we have had a bunch of people in and are trying to get caught up on tons of other things.
The last few days have been pretty rad. Our friend and all around awesome guy Alan Morelli came by on Saturday for a little chat, and to help us out with a few things. I personally met Alan only a few weeks ago, and it is great to see him again already. He lives on the other coast, but I hope he is around more often. Either way, we are very glad to have him around, and grateful for all of his help. Matt Godo, our aero guru, came by on Saturday as well to school us on some things. We talked a lot about the new bikes we are seeing on the market and what works and what doesn't. A lot of data is published on aerodynamics, and I urge everyone not to believe everything you read, and to really do your research before taking all claims to be true. Matt's work really lends to his credibility, and it is great to have such experience and knowledge in the shop. We love to learn, and for that to happen one needs good teachers.
The one appointment we did have today was with young phenom and Elite Bicycles star athlete Andrew Yoder. Andrew is gearing up for races the next two weekends, and wanted to make sure his fit and bike were dialed in. Here is Andrew when he first picked up his new Razor Carbon: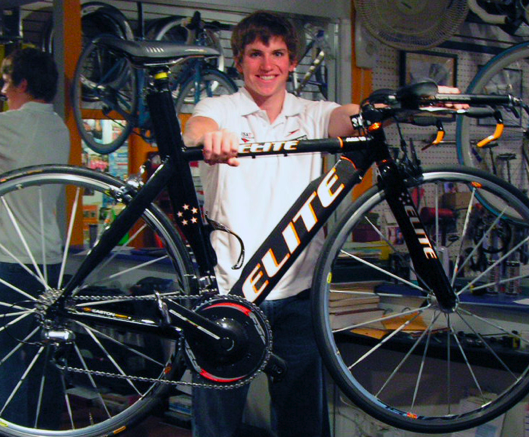 Rob Colburn and his wife traveled up from Virginia today for a tune up on Rob's Elite T-Class triathlon bike. Rob noted that "he travels further to have his bike tuned up than his car" because nobody can touch Richie's mechanical service. While its great to hear that Richie is still owning all other mechanics, its sad that competent service can't be found in every city! Oh well, maybe someday.
—-
So let me tell you about our MTB ride out in Belmont yesterday. I have good news and bad news to report. The good news is that I had what was probably my best ride ever. My legs are feeling great today, and felt great on the ride, though I am still sucking a little wind.
The bad news is that I went over the bars and down the side of a hill (still clipped in), and only stopped when I hit a tree. It wasn't pleasant, but not so bad.  After that I had a bit of catching up to do to reach Richie and Jimmy, and as I was climbing I went over a log that apparently was home to 1 billion wasps. About a dozen of them made it a point to let me know that I was not welcome in the area, and that I should leave immediately. I threw the bike and ran away screaming like a small girl. After about 25m I stopped, thinking I'd escaped their clutches, but they continued their onslaught. After another 25m or so they were gone. I yelled for Richie and Jimmy. Richie came back down and grabbed the bike and met me near the creek. Jimmy was going to go around and meet us, but we lost him. We rode around searching and yelling, the poison coursing through my veins, but to no avail. About 10 minutes after we got back to truck, and only minutes before the sun completely disappeared, Jimmy showed up and we were able to get home in one piece. I am no longer in paint today, but I am very itchy on both legs and my rear end. Unfortunate.
In other news, we are sending Keith off in a couple weeks for some schooling that will greatly help us here at Elite. I will keep you all posted on updates!
Interbike soon! Vegaaaassssss!
Holler.
This post was written by:
Elite
Tags:
Alan Morelli, Andrew Yoder, I Hate Wasps, MTB, Philadelphia, Razor Carbon, T-Class, triathlon bike