2010
07.20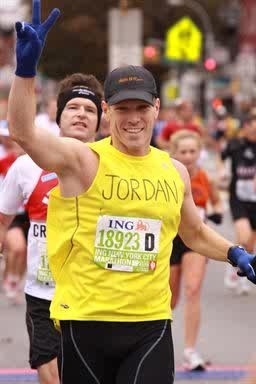 Welcome to the summer edition of healthy sports.  It's summer time, the heat is high, there's humidity a-plenty, and everyone is out and about playing sports and being active.  First of all, keep up the good work!  This is a great time to set goals, enjoy a new activity, or just exercise with your friends and family.  For those of you with running races, triathlons, or endurance events coming up this summer, go get 'em!
Athletes of the Month We get many entries each month for the Athlete of the Month. We love all of the pictures and stories.  In fact, all of the photos that you send us end up in the digital frame in our office.  We see you all every day. Please keep 'em coming! As such, we'd love for you to send one or two of your favorite photos to Adeena in our office at santiagoa@hss.edu. I don't care what the sport or your age, just send us your pictures and we'll put 'em up! Race photos, sports photos, or whatever you want is fine.
As for the athletes of the month, we're still looking for your stories. I don't care if you are first place or last place, as long as you are trying! Send us your story with a photo and you, too, can be the athlete of the month. Please send your photo and entry to Adeena in my office. This season we have selected two very different kinds of athletes!
Emily de La Bruyere Emily is an amazing kid.  Going into her senior yeat at Brearley School, she has set a number of school and local records as she pushes towards her goal of running cross country in college. If she keeps up her present pace, she will succeed.  Emily has pushed herself year after year, and season after season, to get better, faster, stronger and smarter. We hope that her injuries are a thing of the past.  She is accomplishing all of these goals as she pushes ahead. You go, Emily!!
Joseph Stritmater A different kind of athlete than you might meet everyday, Joseph is an ultimate fighter who holds a world championship in muay thai. Big guys get hurt too, and Joe has overcome his injury and is now training to get back into the ring.  Of course, I don't want to see him ultimate fight, but the truth is that all athletes do the best in the sports that they are passionate about.  If it's ballroom dance, triathlon, or even ultimate fighting, just do your thing.  Joseph, please don't get hurt and keep having fun!
Sports Medicine for Coaches Link We held our annual coaches symposium here at HSS on June 19th. This free program included short lectures on many topics relevant to high school and collegiate athletes including teen concussion, ACL prevention, nutrition for sports, dynamic warmup, and tips for balancing academic and athletic life. The presentations can be viewed by clicking the link below. Please feel free to send on to any coaches who might have missed the event.  http://www.hss.edu/conditions_sport-medicine-coaches.asp
Bars versus Gels: Is There a Difference? This interesting article looks at the differences between sports bars and sports gels for carbohydrate replacement. Is one better than the other? Have a read and find out. http://well.blogs.nytimes.com/2010/06/23/phys-ed-do-sport-bars-and-gels-provide-the-energy-of-sports-drinks/
Is Barefoot Running for Everyone? I am seeing many people in my office who have tried to join the barefoot running craze, only to end up injured. Is barefoot running for everyone? I don't think so. This article explains this in a bit more detail. http://running.competitor.com/2010/05/features/the-barefoot-running-injury-epidemic_10118
Is There a Right Way to Warm Up? Stretching? Easy jogging? Nothing at all? What's the right way to warm up? The answer might surprise you. http://www.nytimes.com/2010/05/18/health/nutrition/18best.html?_r=2&ref=nutrition
Recipe of the Month I've decided to pull a recipe of the month that can help all of you think about healthy, fun, and easy ways to feed your athletic bodies. This one is a winner: Quinoa with cucumber and tomato salad. Enjoy! http://www.nytimes.com/2010/07/13/health/nutrition/13recipehealth.html?src=me&ref=homepage
Post Race Recovery:Â  Important Tips Are you doing a race this summer? These questions and answers will hopefully get you thinking about the important subjects of post race recovery.
1) How long does post race recovery last? The truth is that the longer the race, and the closer and more time you spend near your "red line," the longer the post race recovery. There are stages of post race recovery: the immediate stage lasting the first 12-24 hours, the first few days of recovery, and the one to two weeks of post race recovery. There are also many factors that can influence post race recovery such as age, nutrition, sleep, diet, and general healing rate. All of these issues can come into play, so the best advice here is to eat well, sleep as much as possible, stay hydrated, try to stay protein heavy and antioxidant rich in your diet, and don't rush back too soon.
2) Do I really need to get into that ice bath? Several studies have looked at muscle recovery post event and the truth is that spending at least five minutes in an ice bath does seem to help reduce muscle injury and expedite muscle healing. This is especially true with greater amounts of muscle load, so the tougher the event, the more you need to try and suck it up and get into the tub.
3) What do I do the night the event is over? Of course, this is the time to celebrate. The major event is over, the war stories have started, and it's time to enjoy yourself. But what actually aids healing? The data on protein ingestion post event is quite convincing, so for sure a good dose of your favorite protein, be it tofu in California, steak in Nebraska, or sushi in New York, is in order. Although there can be a desire to drown sorrows in alcohol, this is actually a bad idea since this tends to worsen dehydration symptoms post event. If you are compelled to drink alcohol, make sure it's after a solid few hours of post race rehydration.  
4) Is dark urine a problem? When it comes to urine, dark color means trouble. We're seeing more cases of rhabdomyolysis, injury to muscle that is so severe that muscle protein can't be fully filtered by the kidneys, turning the urine brown. The key here is to make sure that dark colored urine is discussed immediately with your physician. In severe cases, rhabdomylolysis can permanently injure kidneys, so this isn't something to mess with at all. Prevention through good pre, inter, and post race hydration is the key here, so make sure you're on top of your hydration.
5) Am I likely to get sick? You might have never heard of them, but interleukins are hormones that circulate in your body and direct traffic. The white blood cells are the body's defense fighting agents, but they need to know where to go. That's where interleukins come into play, they direct the WBC's on where to go to fight infection. Many studies have looked at interleukin levels post endurance event and they seem to drop 36-72 hours post race. Again, the longer and harder the effort, the bigger the drop with the interleukin levels. The key here is to anticipate this drop and protect yourself post race. Try to stay away from the sneezing and coughing guy next to you, wash your hands regularly, and try to limit plane travel for a few days after the race if possible. Although the data is mixed on Vitamin C, zinc, or ecinnachea loading, it can't hurt to try one of these if you believe in that sort of thing. Expect to feel sniffly a few days after a marathon or ironman, it's normal for most.
6) When can I exercise again? Of course, we all want to move again. But rushing back too soon can spell disaster for many athletes who develop tendon injuries and stress fractures from rushing back too quickly. There are several key points here. Firstly, the longer and harder the event, the more time it takes to heal. Secondly, the better shape you are in going into the event, the quicker the recovery period. Thirdly, the better job you do in not rushing back, the smoother the transition back to activity. With these bits of information, it's important to remember that everyone heals at a different rate. In the words of Obe Won Kanobe, "feel the force, listen to your body". I tell my patients to mimic the taper they did going into the event with the post race return to activity after the event. In essence, walking back up the ladder in reverse is the way to go. But there is no one size fits all, so just listen to your body and go back very slowly.
7) What can I do better next time? We all hope to learn from our successes and mistakes. See what works for you. I have tried to give you the scientific facts here, but the truth is that everyone is different and you need to listen to your own body's needs in order to ensure a healthy post race recovery. Lastly, please treat the post race period seriously because it can influence your next race and many races after that. Here's to the many races to come!
That's all for this newsletter. I hope you enjoyed it!
Best wishes for you all and have a safe and active summer sports season! Keep moving and have fun! Â  Jordan D. Metzl, MD Â  www.DrJordanMetzl.com- an educational website with information about our practice, articles, and educational videos about sports medicine
This post was written by:
DGG
Tags:
Barefoot Running, Bars versus Gels, Dr. Jordan Metzl, Elite Bicycles, Emily de La Bruyere, Joseph Stritmater, Post Race Recovery, Recipe of the Month, ultimate fighter