2012
09.04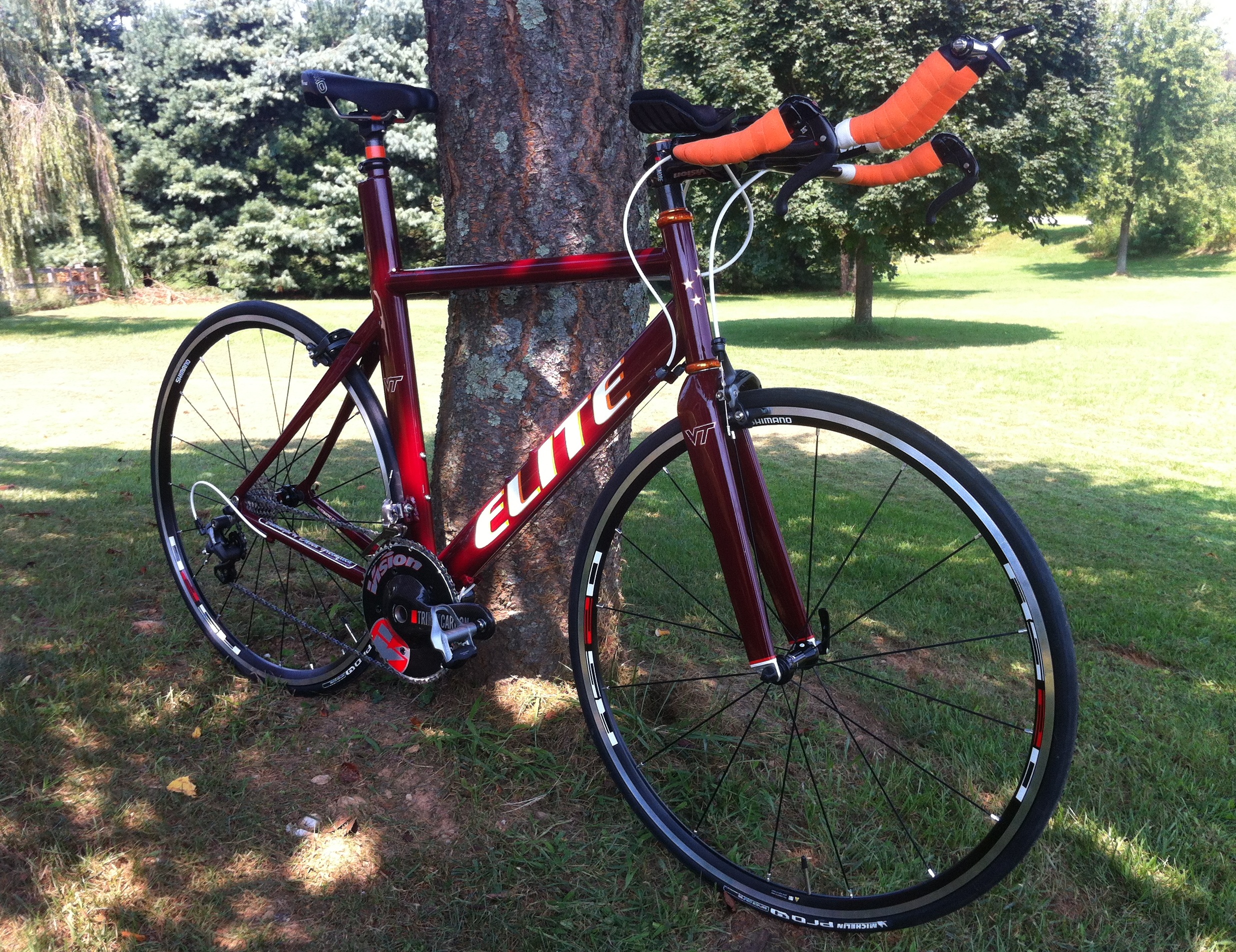 "EliteBicycles are the best!  Super personal service. Sweet ride. Go Hokies!!"  Posted on Twitter by Glenn Byrd after his first ride on his new custom built and custom painted triathlon bicycle with a Virginia Tech themed finish.
Glenn is no stranger to Elite Bicycles, for many years he has successfully competed in several Ironman triathlon events on one of our classic American made stock Triathlon bikes. Now, with goals set on a new PR in Quebec Canada, at Ironman Mont-Tremblant, Glen has chosen a new vehicle for his success, personal perfection in the form of one of our completely full custom triathlon bicycles.  The true aerodynamic Razor, 100% handcrafted in the USA and built one by one specifically for an intended athlete.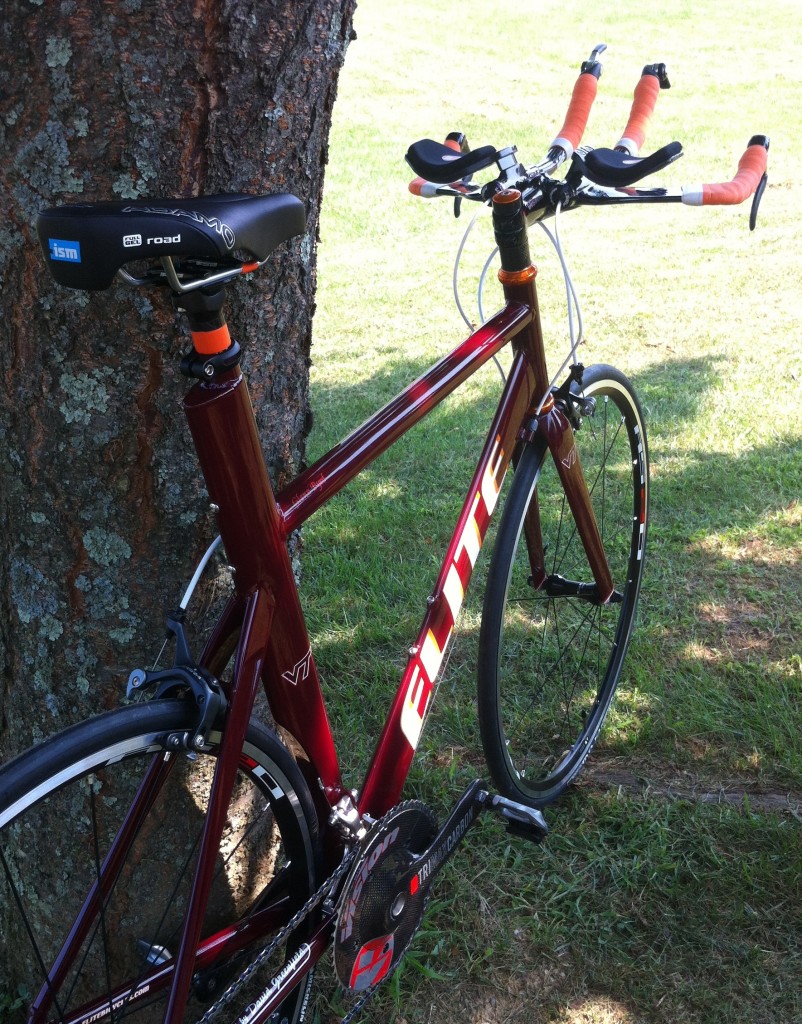 The overall geometry of every custom frame we build is unique.  Each individual tube's size, and tube lengths on all of our custom frames are cut to measure for the rider and designed to help them maximize every aspect of the riding experience. This includes a complete sense of control, handling, comfort, power and most importantly sustainability of all characteristics mentioned for the rider.
Maximization of control and handling of a bicycle is obtained with several features, these include, but are not limited to:
1) The lowest possible center of gravity, The lower the center gravity, the better a bicycle will climb, descend and corner.
2) Frame proportionality onto itself for the task at hand. ( height vs length)
3) Appropriate weight distribution throughout the frame.
4) Frame sizing that allows the rider to utilize the proper length and pitch stem for the axis of rotation for their given riding style. (note: Not one pro tour rider is on a stem length for their road bikes less than 110 and a pitch greater than plus 6*, the appropriate stem length for road racing is 110 – 130 and 80 -100 for time trial and triathlon. 120 and 90 are in my opinion optimal for the two respected styles on medial sizes)
5) Elite Bicycles 16 years of race geometry experience in frame design.
The utmost in comfort and power come from a frame that is created to meet the specific body angel needs of the rider and generates full support for the rider in their needed place in space. A proper, Elite Bicycles standard of bicycle fitting is needed to discern what the exact requirements are for each individual athlete. "We are all snowflakes"
Most importantly is sustainability, if all is done correctly the athlete can enjoy the full benefits of maximum comfort, and power, indefinitely.  The fastest way to get from point A to point B is comfortably in the most powerful position for the given distance and terrain style of the desired competition, or area of riding.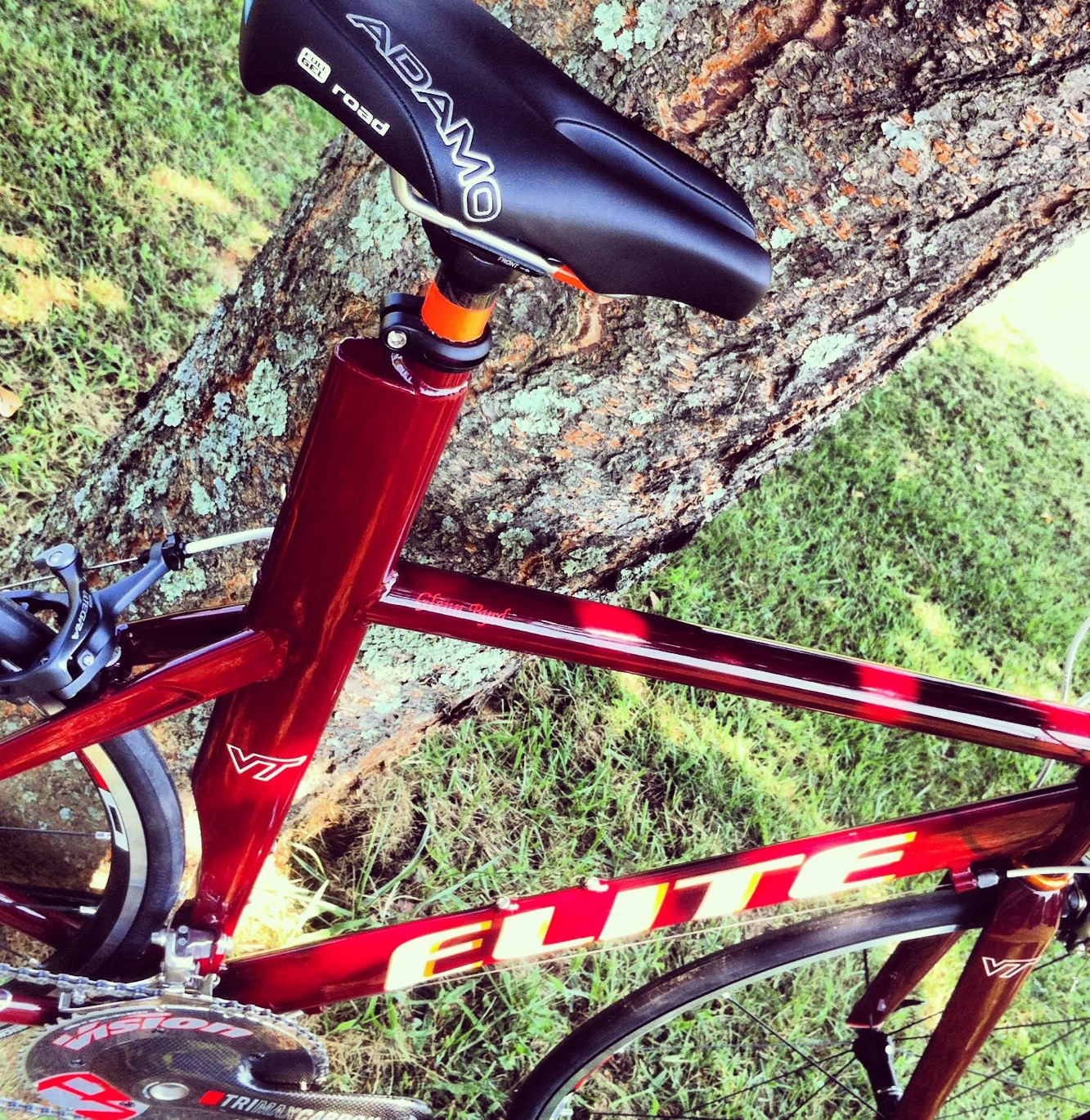 All Elite Bicycles come standard with the ISM saddle of choice for each individual rider, we don't tell our clients what saddle they will be getting. We let the athlete and their bodies tell us witch ISM seat is best for them.  Again, "we are all snowflakes".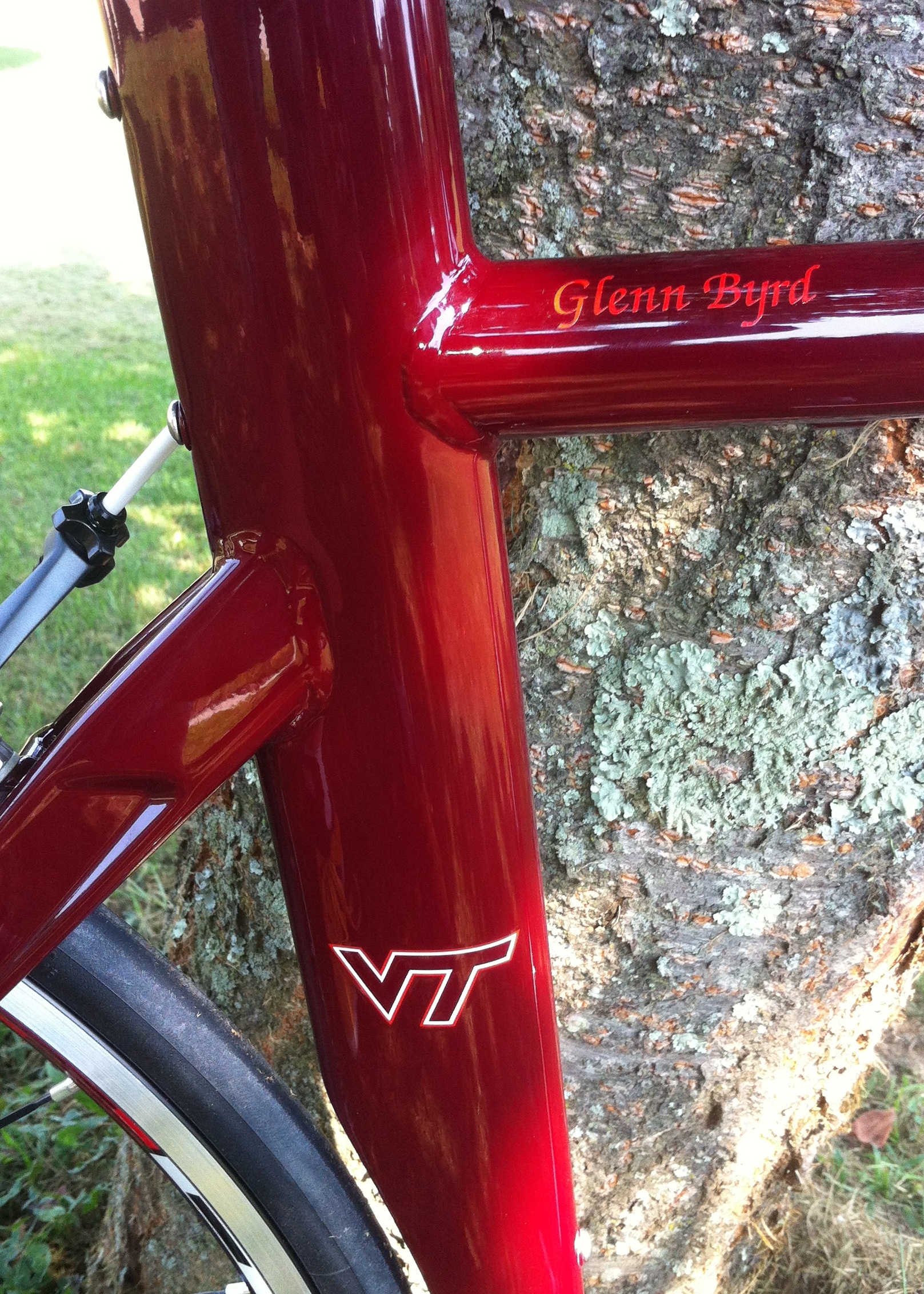 Obviously, the esthetics of this bike is as individual as the rider who enjoys it.  As a proud Virginia Tech alumni, Glenn was able to choose a "Go Hokies" themed finish. Compete with the VT logo and school color scheme of burgundy, orange, and white.  For that extra touch, Glenn's name was added to the top tube to ensure there is no question of to whom this one of a kind speed machine belongs to.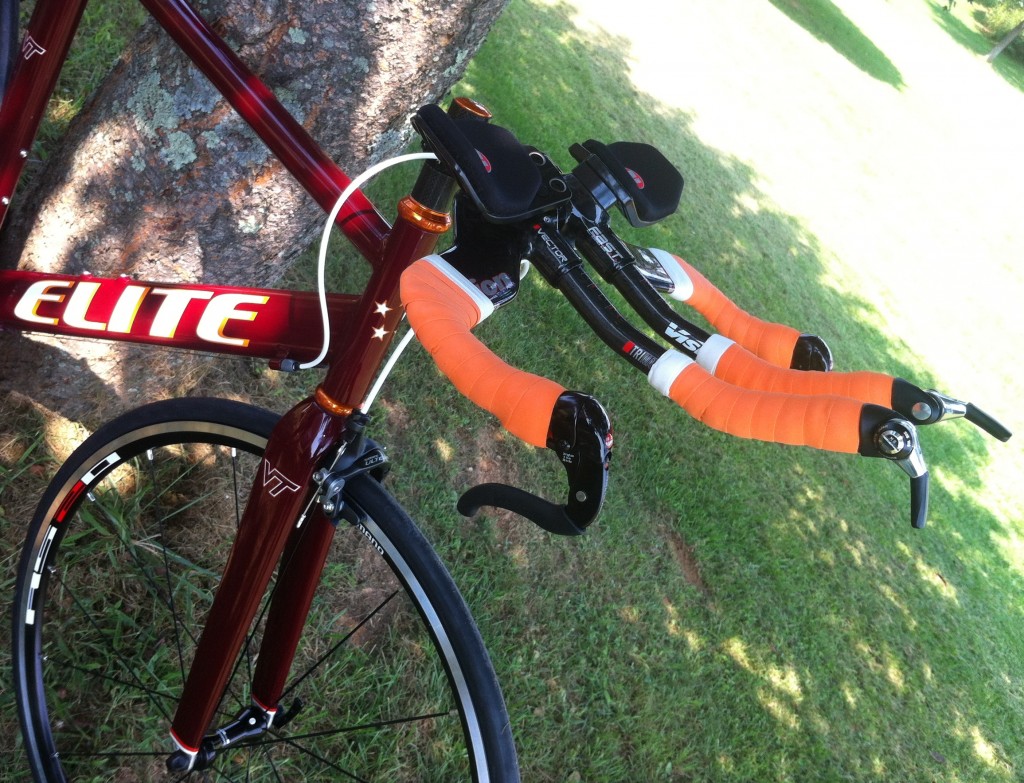 The spec of parts on Glenn's bike is also customized and individualized to his wants, needs, and wishes. We at Elite Bicycles have the luxury of a full array of bicycle components available on the market today, and are happy to provide our clients any and all of the specialty products obtainable through our extensive list of suppliers.   Shown above are the fully adjustable and very "Gucci"  Vector, one piece carbon aero bars from Vision, a division of Full Speed Ahead.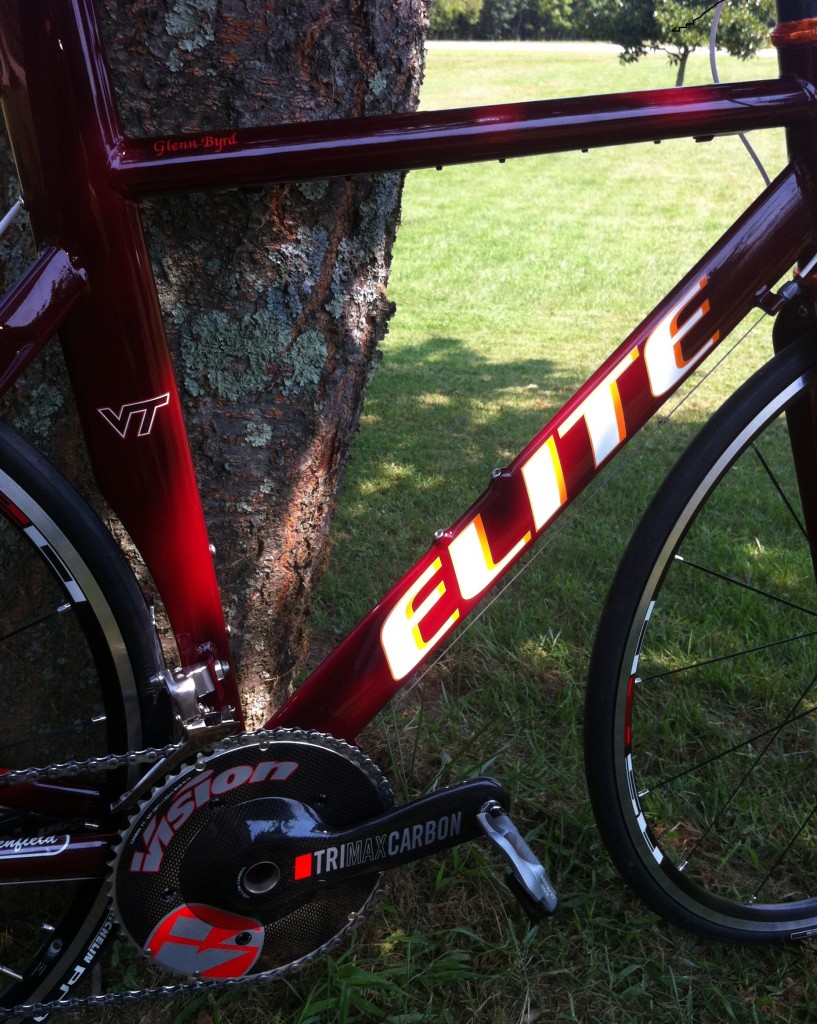 Also from Vision Tech are the very cool and very functional Tri-Max cranks, these cranks come standard with a ceramic bottom bracket, In my opinion this is one of the best bangs for the buck as far as added performance is concerned.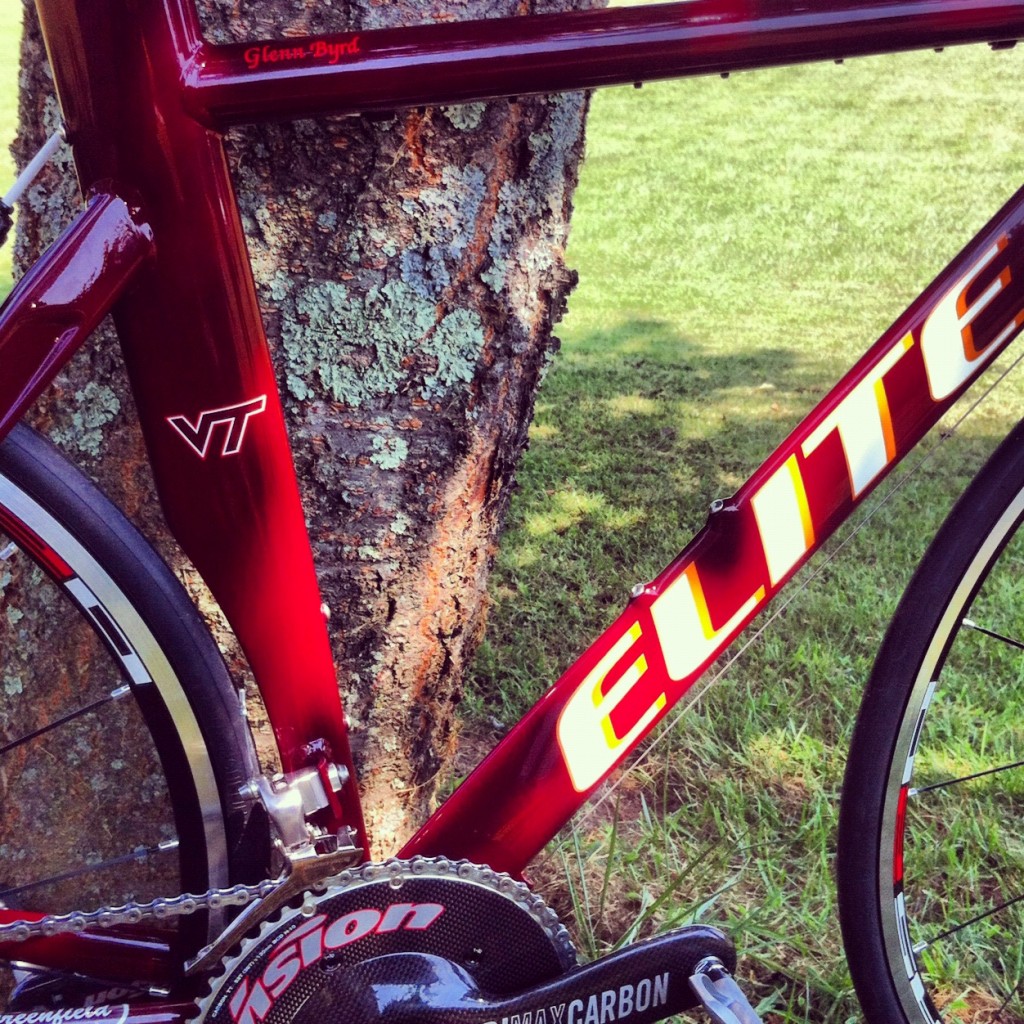 Thank you again, Glenn Byrd, for choosing Elite Bicycles and made in America, personal perfection.
###
(note: All pre-fit and final fit work, frame design, and parts spec were done by Elite Bicycles president and master bicycle fitter David Greenfield)
This post was written by:
DGG
Tags:
Adamo, american made, Bicycle Fitting, bicycles, Biomechanical Bicycle Positioning, Chris King, custom painted bike, custom painted triathlon bicycle, Custom Tri bike, David Greenfield, Elite Bicycles, elite custom, Full Custom, Full speed Ahead, glenn Byrd, gucci, handcrafted in the USA, hokies, Ironman, ironman mont-tremblant, ironman triathlon, ISM, ism saddle, ism seat, made in america, made in th, made in the USA, Master bicycle fitter, master bike fitter, personal perfection, snowflake, triathlon, triathlon bike, Virginia Tech, Vision Tech, VT