2012
08.15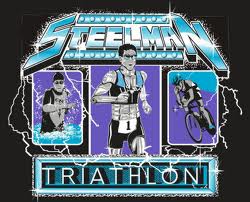 Congratulations to Elite Bicycles factory team athlete Holly Geldhauser on her commanding win at the the 8th annual Steelman Triathlon.  Holly entered the race without taper  to enable her to use the day as a hard training day as she builds her fitness for her main priority of the year.  Ms. Geldhauser has  her mind set on a AG win at 70.3 triathlon world championships in Las Vegas, Nevada, coming up in September.  Due to her strong will to push herself  to the limits of her abilities and her tireless work ethic, I will not be surprised to see a world armature title in her near future.
Holly performed magnificently this past weekend  with a wire to wire win at the Steelman event held in and around the Nockamixon State Park, in Quakertown Pennsylvania.  From the gun Holly entered the water with power, and continued to build a lead from there, exiting the water with the fastest woman's swim time on the day.  The domination continued onto the bike as she also rode the fastest woman's bike time, on her fully custom built and painted triathlon bicycle.
Holly enjoys the luxury of Elite bicycles ability to provide full custom painted bicycles to all of its discerning clients. The options offered by Elite bicycles are endless. Â  Appropriate to her name and personal flare, Holly leaves and berry's replace the five stars of excellence on the seat tube as personal representation of who she is.
Off the bike,  Holly was able to maintain a strong run (3ed best woman's run split ) without the pressure of any late charging competitors to take the win with ease.
Holly was not only dominant in taking the overall woman's title,  She competed at such a high level that she was able to finish the race in 6th place overall, only losing out to 5 aggressive men.
Full results from the Steelman triathlon can be found on the results page of the Lin-Mark website.
Holly was recently present at a late afternoon, Elite Bicycles team athletes dinner and conversation. It was great to spend time with her and enjoy her positive and optimistic view of life and sport. I personally look forward to watching Ms Geldhauser excel in the sport of triathlon, and providing her any and all support we can when needed.
We at Elite Bicycles are very proud to have Holly Geldhauser on our team and are honored to have her as a representative of the brand.
Thank You Holly….
This post was written by:
DGG
Tags:
c, custom paint, custom painted bike, Custom Tri bike, David Greenfield, Elite Bicycles, elite custom, holly geldhauser, master bike fitter, race win, Razor Carbon, steelman triathlon, triathlon, triathlon bike