2011
07.08
FIVE STAR BICYCLES CHANGES NAME TO ELITE CUSTOM
Road/Triathlon Distributor for SEAsia with Prompt Service, Full Stock, and Rich Margins
Five Star Bicycles Pte Ltd is pleased to announce its official name change to Elite Custom Pte Ltd. Elite Custom will serve Asia, the Middle East, and New Zealand with a full line of the finest brands in cycling today. Distribution products vary through out the different territory's covered by EC
Elite Custom is happy to offer many premium American brands to the region, including Elite Bicycle's long-time partners, ENVE Composites, makers of the most advanced carbon products on the market and Thomson, the standard in stems and seat posts. Other performance brands include the wildly successful and unmatched comfort provided by ISM Saddles. TorHans, the makers of innovative hydration products, fashionable and performance driven Panache Cyclewear, arm-rest comfort provided by Cee Gee pads and Vincero Design products. As for frames, Elite Custom is proud to represent its namesake, Elite Bicycles, as the only licensed representative of the name and brand in the region. Along with two other quality minded, USA custom built brands, Serotta and Parlee.
Elite Custom will also supply world class bicycle fitting instruction and certification at your location by Master fitter David Greenfield creator of the world famous  Biomechanical Bicycle Positioning (BBP) Fit Protocol. In line with Elite Custom's commitment to advanced fitting and the progression of the art, Elite Custom is also the proud distributor of Fit tool products designed by BikeFit as well as Cycle Soles, the most progressive system of custom molded foot beds offered worldwide.
Elite Custom will continue to serve the region with prompt service, a full and ready inventory, and profitable margins. Â Believing in long-term relationship building, Elite Custom offers partners a profitable relationship with great margins.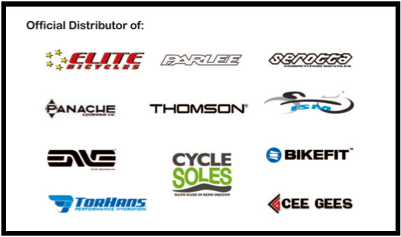 For more information, you can contact Elite Custom:
by emailing info@elitecustom.sg,
calling +65 6256 2028,
or visit us at:
Blk 2 Thomson Road,
Balestier Shopping Center, #01-649
Singapore 320002
This post was written by:
DGG
Tags:
adomo, Bicycle Fitting, Bikefit, Biomechanical Bicycle Positioning, Cee Gee, Custom Tri bike, Cycle Soles, Distrabution, Elite Bicycles, Enve Composites, Enve Wheels, Full Custom, functional movment, ISM, parlee, Road Bike, serotta, Singapore, South East Asia, thomson, TorHans, triathlon