2010
02.23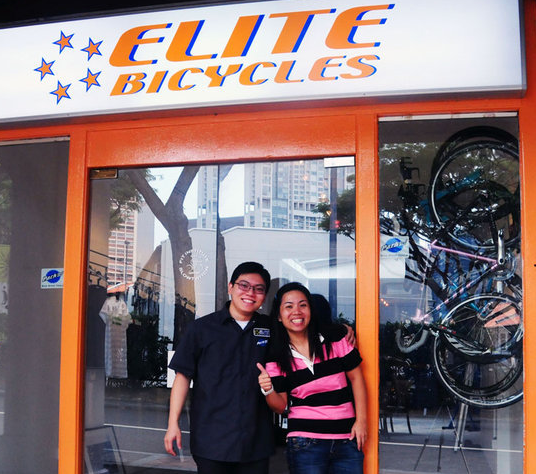 Customized fit enhances comfort and performance
Singapore – Elite bicycles, the American manufacturer based in Philadelphia, PA, has made its debut in Singapore. For athletes of all levels, Elite provides an alternative to the mass-produced cookie cutter options sold by most bicycle companies.
Located at Duxton Hill in the heart of Singapore's bustling Central Business District, Elite Bicycles Asia offers top quality bicycles that are cut to measure and tailor-made for the individual, ensuring optimal handling, safety, and performance. Every Elite bicycle is completely handmade in the United States from fabrication to finish and each frame is specifically built to fit the rider.
Founded in 1996 by American professional athlete David Greenfield, Elite Bicycles caters to athletes looking for the critical edge that they need to excel. During his four-year professional triathlon career, Greenfield felt that athletes needed an affordable and viable alternative to the off-the-rack bicycles. "I am proud of and I embrace the way we choose to operate. As a smaller manufacturer, it allows us to be more stringent in our quality control and to make running changes as needed. We do not cut corners." said David Greenfield, President of Elite Bicycles Inc.
In an effort to provide an advanced option to the existing market in Asia, company directors Ms. Daphne Wee and Ms. Adeline Khoo introduced Elite Bicycles to Singapore, the first store to be launched outside of the United States. The former NYC based Certified Public Accountants are avid triathletes and have completed many races of various distances, from sprints to Ironman, worldwide.
Frustrated with the lack of selection, Daphne and Adeline embarked on a personal quest to find the perfect fitting bike. After encountering one too many pushy sales assistants who were more interested in making a quick sale than providing the athlete what is best for them, the pair finally found Elite Bicycles.
"We knew we had found what we were looking for when David explained to us how the bike has to be built to the rider. Up until then, fitters were trying to force a position that didn't make sense to me," said Ms. Adeline Khoo, Director of Elite Bicycles Asia.
Elite's commitment to quality can also be witnessed through their detailed fitting process. A single bike fitting will take about four hours, including 3D motion capture services.
Every fit session is a comprehensive multi-layered approach to determine an athlete's best biomechanical position. The fitters begin with an interview to learn more about the athlete and his or her goals and lifestyle and physical history, after which Elite's positioning protocol is explained and justified. The athlete is then put through an extensive series of tests to assess physical and functional discrepancies and anatomical movement that includes a comprehensive evaluation and stabilisation of the complex human foot. This learned information allows Daphne and Adeline to help the athlete create a sustainable, balanced, and safe position that maximises the athlete's abilities.
At Elite, we pride ourselves on listening to our clients and we believe that everyone is different in their own unique way. Our goal is to educate the client as part of our service.
Daphne and Adeline were both personally trained by David Greenfield in Philadelphia, and are the first two female F.I.S.T Certified bicycle fitters in Singapore.
"We have been Elite riders for five years now and we wanted to give other cyclists a chance to experience the unmatched comfort and performance that only a customized bicycle can provide," said Ms. Daphne Wee, Director of Elite Bicycles Asia. "Cycling has always been my passion, and I am truly lucky to begin an endeavour that will align with my interests."
Elite Bicycles Asia is located at 3 Duxton Hill, Singapore 089589, and is open Tuesdays to Saturdays from 11:00am to 7:30pm. Bicycle fits are by appointment only and carry a guarantee of satisfaction.
Elite Bicycles President, David Greenfield, and the Elite Bicycles Asia crew will be hosting an open house at Duxton Hill (with hors d'oeuvres!) in conjunction with the 2010 Aviva Ironman 70.3 Singapore the week of March 15th. Please call for details.
This post was written by:
Elite
Tags:
America, Asia, Elite Bicycles, F.I.S.T. Certified, Full Custom, Handmade, Ironman, Philly, Singapore, triathlon