2011
12.28

All Elite Bicycles are sold with the option to have your new speed machine custom painted to match the personality and aesthetic desires of each individual rider.  Custom paint is offered on all of the varieties of  bicycles we create.  We have painted many different shades of almost every color imaginable throughout the history of Elite Bicycles and many many combination's of colors.  Graphics, logo's, signatures and themes have also been common place for us as well.
Over the years we have painted many shades of sold purple frames, purple faded with other colors or masked off with with a clean line to another colors.   Purple bicycle frames with graphics such as flowers, flames, and or insignias have also been done several times over, however they all differ with their own personal flare.  The following are several examples of  purple painted frames that I thought I would like to share.  These photos and the bikes in them have never been posted anywhere before, hope you enjoy what you see….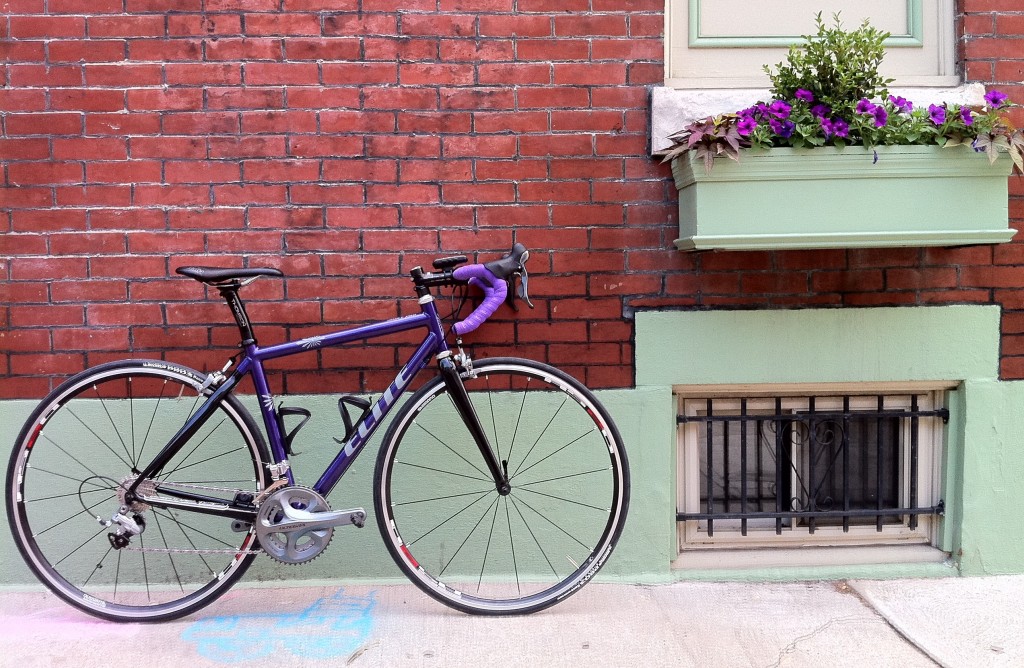 This gorgeous full custom Joule Pro road bike belongs to the equally lovely and vivacious Marlene P.  The frame is done in a metallic purple finish and accented with silver decals and a personal design.  Please note the custom silver modern flower pattern.  This personal insignia was created by Marlene herself, and is located on located on the top tube, seat tube and head tube of the frame.  Built to her perfect word fit and personal autonomy,  this bicycle will perform all of  her cycling wishes and  is simply elegant in its execution.

There is no better way to celebrate the qualification to triathlons biggest dance of the year, the Hawaiian Ironman world championships, than a new full custom triathlon racing bicycle.  These world championships are held every year in Kona Hawaii  on the first full moon weekend in October.  An educated athlete knows the best way to maximize their performance on the bike and onto the run, is with a frame that is designed to match their exact needs in size, geometry, and personal style.
A  perfect example of this can be seen here in this custom Razor tri bike.  The frame was not only built to the athletes exact spec,  it received a brilliant finish to rejoice in the accomplishment to compete in, and the romance of  Hawaii.  Accented with silver shadowed, white hibiscus flowers this purple frame comes alive with the look and feel of the tropical island itself.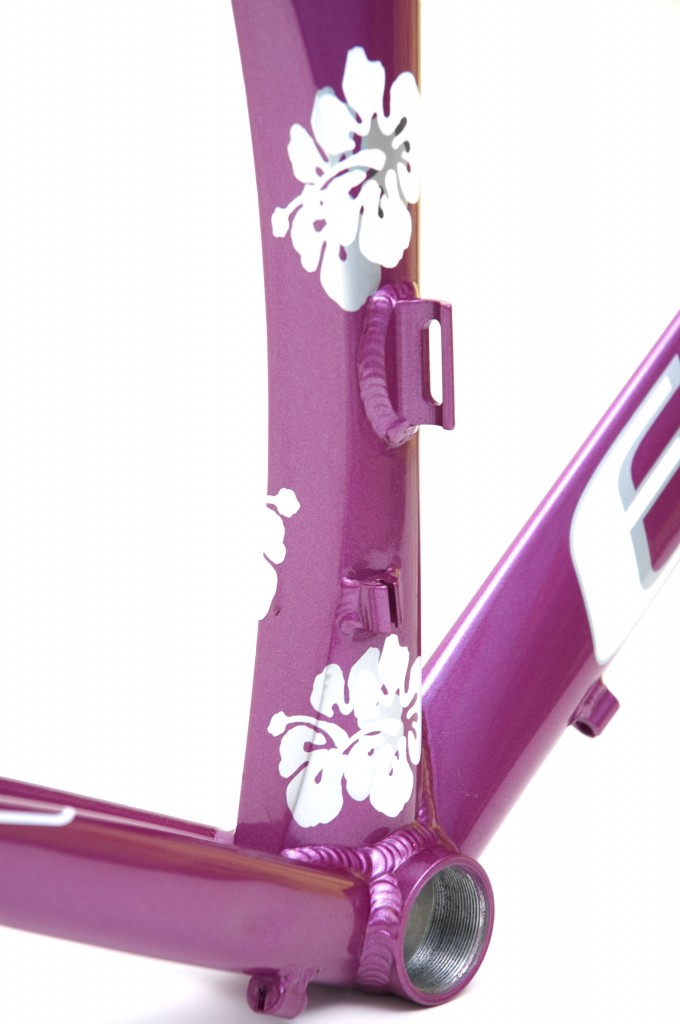 The shadow effect on the hibiscus flower is a multiple step process. Each flower is hand laid on the frame  per color, one on top of the other to create the visual effect.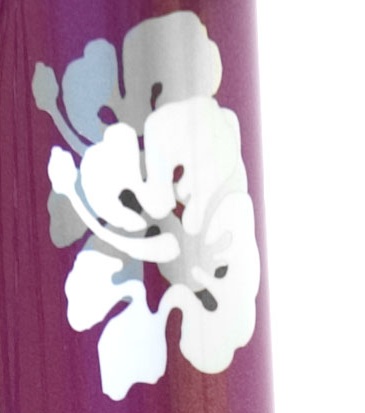 The final selection on the day is a photo of one of my most favorite persons in the world, Four time Olympian and gold Medalist Sheila Taormina.  Yes,  she is an amazing and very hard working athlete with Olympic and world records to her credit, however, this multiple world champion is one of the greatest personalities I have ever know.  She is extremely kind hearted, generous, adventurous, and very humble. Sheila always has a smile on her face, does her best to share positive insight and influence with others, and welcomes all to enjoy the touch and feel of gold medal she most deservedly owns.  I have personally had the honor of her friendship and professionalism as an athlete for well over a decade and have cherished every moment of it.  Sheila truly feels blessed by God and this blessing is easily felt by all that ever have the pleasure to meet her.
This photo was taken during Sheila's most recent world tour to promote her new book  "call the suit"  and to provide swim clinics to athletes around the globe.  During her journey, Sheila made it a point to visit  Singapore.  This visit was not only to provide advanced swim instruction our clients in Singapore but to holiday and spend time at our Elite Bicycles boutique store Elite Custom in the Novena section of town.  Needless to say, her time spent in SG was a great success and  her return is welcomed with open arms.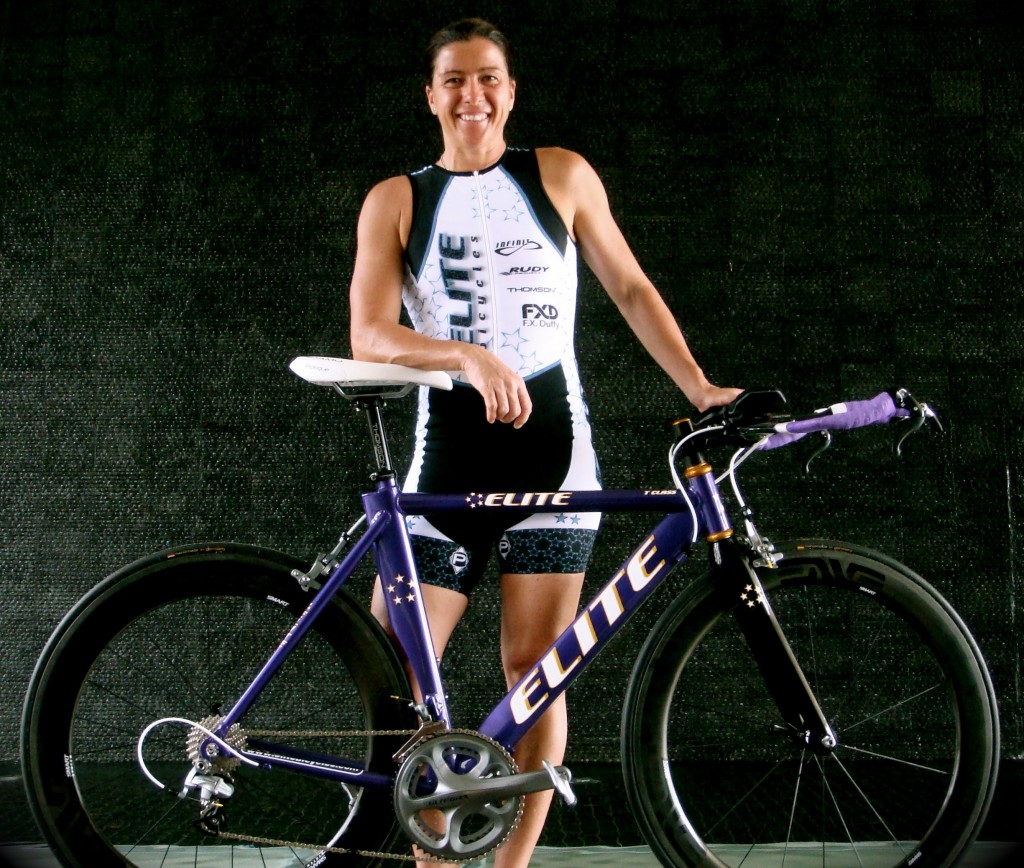 Sheila Taormina has been a factory sponsored athlete of Elite Bicycles for all but her first professional triathlon event.  She is posed here in our Elite Bicycles custom Panache Cycle wear with a purple painted Elite T-Class featuring several of the products Elite Custom Pte Ltd represents for distribution through Asia. Pictured here are the truly innovative Enve Composites Smart engineered  system (SES) 6.7 wheel set. The wildly popular ISM Prologue saddle in white, and finally the cushy comfort of Cee Gee pads.
To see other examples of custom painted road bicycles and custom painted triathlon bicycles in a wide verity of colors, styles, and themes, please feel free to visit our gallery.  Please remember the finish options from Elite bicycles are endless so whatever your fancy may be we can most likely deliver it to you.
This post was written by:
DGG
Tags:
Adamo, Bicycle Fitting, Biomechanical Bicycle Positioning, Call the Suit, Cee Gee, custom paint, custom road bike, Custom Tri bike, David Greenfield, Elite Bicycles, elite custom, Elite custom pte ltd, Elite Custom Singapore, Enve Composites, Enve Wheels, Gold medalist, hibiscus flower, Ironman World Championship, ISM, Joule Pro, Master bicycle fitter, Olympics, panache, personal insignia, prologue, purple bicycle, purple bicycles, Razor, Road Bike, Sheila Taormina, Singapore, T-Class, triathlon, triathlon bike