2009
07.18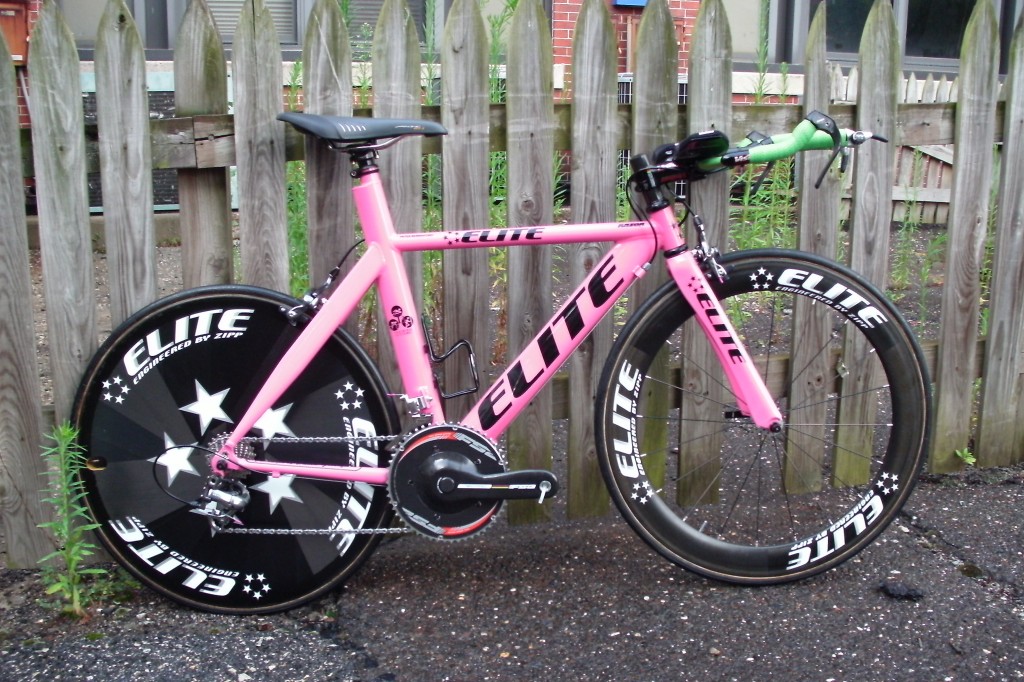 Semi lazy day here at Elite Bicycles, we got Reena calmed down and ready to race Lake Placid Ironman along with long-time Elite Bicycle friend and team rider Jenny "Mini" Cooper. It was a big day for "Mini" in that she is now confident and well versed in the art of changing a tubular tire. A few other tune ups for those excited racers going to Placid and a good day to organize the shop.
Our sympathies to George Hincapie who should be in yellow right now, but due to the lack of consideration by his so called long time friend and ex-teammate Lance Armstrong who brought Astana to the front of the pelaton pulling Hincapie out of yellow. Congratulations to Todd Wiley and Todd Stackhouse who finished 1st and 3rd respectively at Sunset sprint triathlon today in New Jersey. Another Congratulations goes out to Mike Marsteller who achieved second step on the podium in the Sunset duathlon.
A new addition to our blog will be the bike of the week! (or of the day if we become even more motivated) Our inaugural bike this week is a full custom hot pink triathlon race bike belonging to Peter Berrisford. Peter runs a 58mm carbon front wheel with a full carbon disc rear. Peter's coaching logo, T3 Training Systems, is featured on the custom 79 degree (WOW!) seat tube. This bike may look soft and cuddly but don't be fooled the man behind the machine is tougher than nails. Here are some little known facts about Peter:
Peter Berrisford once visited the Virgin Islands. They are now The Islands.
Leading hand sanitizers claim they can kill 99.9 percent of germs. Peter Berrisford can kill 100 percent of whatever he wants.
Some kids piss their name in the snow. Peter Berrisford can piss his name into concrete.
Peter Berrisford's tears cure cancer. Too bad he has never cried.
Peter Berrisford's calendar goes straight from March 31st to April 2nd; no one fools Peter Berrisford.
Peter Berrisford does not sleep. He waits.
This post was written by:
DGG
Tags:
Elite Bicycles, Hincapie, Hot pink Tri bike, Lake Placid IronMan, Peter Barrisford, Sunset triathlon