2009
07.28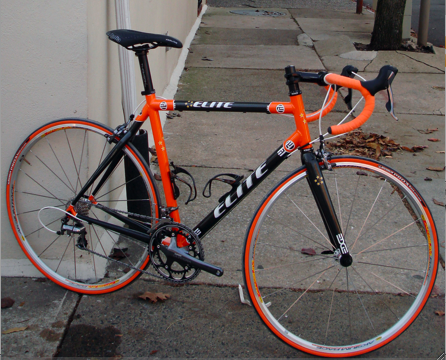 Welcome once again to another edition of Elite Bicycles Bike of the Week. This week's speed machine belongs to none other than Jordan Metzl, M.D.. Jordan's ride is our Elite Bicycles Joule Pro Carbon. His bike is a little different than most in that we actually sent it out to our good friends at Edge Composites in Utah for use in their specialty booth at Interbike 2008. Here it is in all its Edge Composites regalia: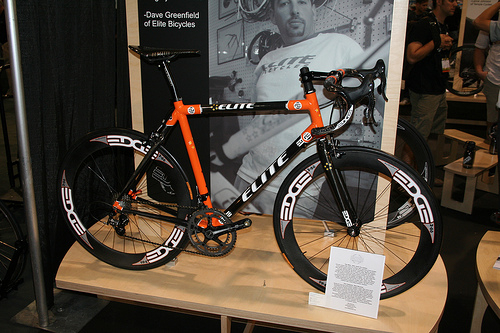 Outfitted for the show in a full Campagnolo Super Record 11 grouppo with Edge Composites 66mm carbon tubular wheels in a custom orange finish. Features also include an Edge Composites  road bar and fork and a Fizik full carbon saddle.
Now, this isn't exactly an everyday ride setup, so Jordan's bike in its current incarnation is a little different (as you can see up top). Full Shimano Ultegra SL parts kit but with the same Edge Composites bar and fork. The frame itself features unique (read: one of a kind) circular cutout lugs on the front and rear, with a brilliant orange finish throughout, and white pinstriping from the lugs to carbon. This is an absolutely gorgeous bike.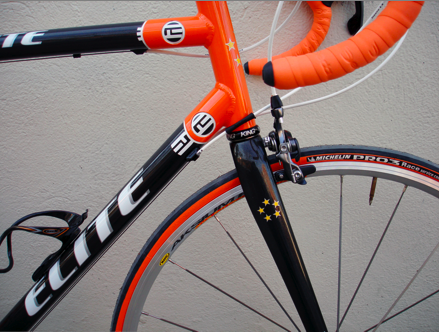 A recurring contributor to several top triathlon publications, Dr. Metzl is a nationally recognized sports medicine physician at New York City's Hospital for Special Surgery. Named to New York Magazine's Top Doctors List, Jordan is recognized nationwide for his excellence in patient care, research, and teaching. In addition to his practice, Dr. Metzl is an award winning author, a national television and radio host, a twenty-five time marathon runner, and a six time Ironman athlete.
Plus he is very affable and exceptionally handsome.
This post was written by:
Elite
Tags:
Campagnolo, Edge Composites, handsome, Ironman, Jordan Metzl, New York City, Shimano, Super Record, the doctor is in