2009
08.27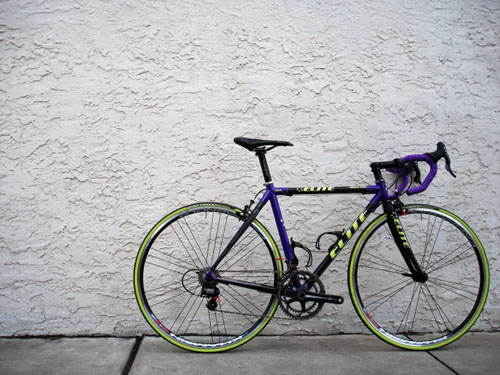 Hi! It is Bike of the Week time once again.
Today's featured speed machine is Chryssa Kasparian's Joule Pro Carbon. If you were unaware, Chryssa is David's better half, and the beauty and attention to detail on her bike really speaks to how much David cares about her and making her ride perfect. I think it is very romantic. Anyway, onto the bike at hand.
As you can see, what we are looking at is a full custom Elite Joule Pro Carbon road bike. The bike features Easton scandium GX2 tubing at the head tube and seat tube, with an Edge Composites carbon top tube and down tube and an Easton EC90 carbon rear end. It is outfitted with an Campagnolo Super Record 11 Speed parts kit – very fancy. If you are unfamiliar with Campagnolo, you should check out some information on its history at http://en.wikipedia.org/wiki/Campagnolo. We actually have a book here in the shop called Campagnolo: 75 Years of Cycling Passion that is awesome. Make sure you ask to take a look at it the next time you're in!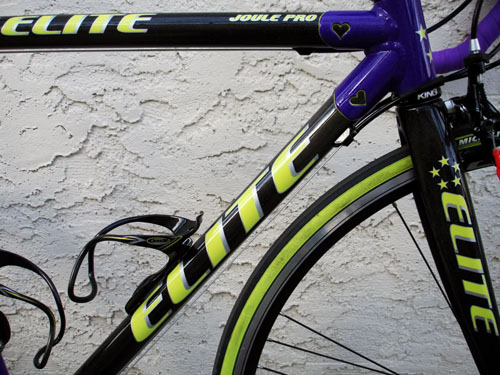 Chryssa's frame features custom made decals, not usually in our caché of decal options, and a high sparkle deep purple paint job. In addition to the personal touch of custom decals, Chryssa's initials are on her top tube, and each lug features custom heart cutouts (awww) with handpainted pinstriping detail inside.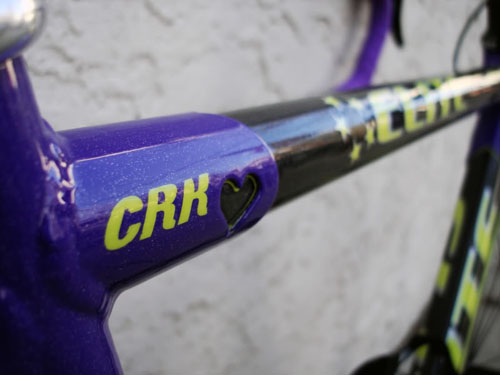 And, new to Chryssa's bike, are custom built Elite aero race wheels. The wheels features custom matching decals and White Industries H series hubs with a ceramic bearing upgrade. Luckily Michelin makes Pro 3 race tires in practically every color under the sun, and they happen to match Chryssa's decals. These wheels are hot like fire.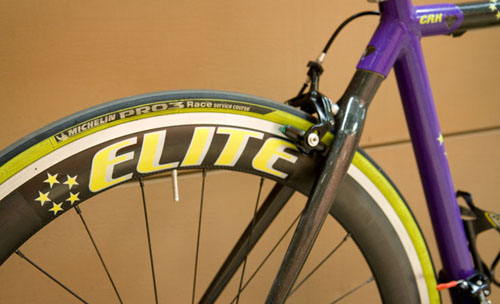 Annnnnd I'm spent.
This post was written by:
Elite
Tags:
Campagnolo Super Record, custom road bike, Easton Scandium, Edge Composites, fancy, Joule Pro Carbon, Michelin Pro 3, Race Wheels, White Industries