Elite Athletes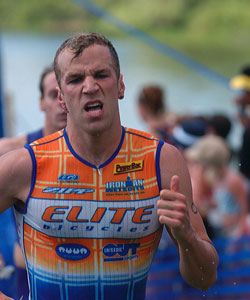 David Messenheimer
Nationality:
United States
Current Residence:
Fort Collins, CO
Date of Birth:
October 18, 1980
Bicycle:
Joule Pro Aero, ITU setup
David Messenheimer Bio
Career Highlights:
- 2003 U-23 World Team
- 2006 & 2007 3rd place Kelowna ITU PanAm Cup
- 2007 & 2008 4th place Geneva ITU PanAm Cup
- 35th place 2007 Eilat World Cup -2006-2007 USAT National Resident Team -2006 USAT Board Member

Favorite Race: Kelowna Triathlon (Canada)

Daily Ritual: Go to work. Lately, it has also been a solid 10 mile run with the dog. I also have to check cyclingnews.com.

Goals for 2010: Improve Xterra skills, maybe run a marathon. Killer cyclocross season (move up to elite).

Why did you choose Elite? Amazing customer service. Incredible custom fitting. Dedication to what they do. They love bikes!