Elite Athletes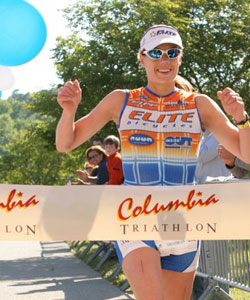 Margie Shapiro
Nationality:
United States
Current Residence:
Herndon, VA
Date of Birth:
December 30, 1976
Margie Shapiro Bio
Career Highlights:
- Overall Amateur World Champion 2005 (by largest margin of victory in history of triathlon)
- USA Triathlon, Inside Triathlon Magazine, and Triathlete Magazine Age Group Triathlete of the Year in 2005
- Top-Ranked Rookie Pro on ITU circuit in 2006
- Fastest Bike Split in Multiple ITU Races 2006 - 2008
- US Elite Development Team 2006-07
- US National Team Member 2007-08
- Qualified for Elite World Championship in first complete Elite season
- Only Top-12 US-Ranked Pro who has kids, and one of very few mothers on the ITU circuit

Favorite Race: Columbia Triathlon

Daily Ritual: Kiss kids and drink cheap instant coffee before morning workout.

Goals for 2010:
1) To return from hip & shoulder surgeries ready for to my strongest pro season yet;
2) Top-5 finishes at several US non-drafting Olympic Distance races;
3) Top-20 ITU World Cup finish upon return to the ITU Circuit

Why did you choose Elite? Because I am a perfectionist.